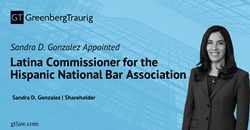 AUSTIN, Texas (PRWEB) November 22, 2021
Sandra Gonzalez, a shareholder in the Austin office of global law firm Greenberg Traurig, LLP, has been appointed a Latina commissioner for the Hispanic National Bar Association (HNBA). As a commissioner, Gonzalez will play a vital role in the progression of issues that impact Latinas in the legal profession.
"I am passionate about increasing the representation of Latinos within the legal profession and providing them support and resources to succeed. As a Latina in the legal profession, the HNBA and Latina Commission's missions are ones that I hold close to my heart," Gonzalez said. "It's an absolute honor to serve as a HNBA Latina commissioner and I look forward to working alongside an extraordinary group of individuals."
Since its founding in 1972, HNBA has acted as a force for positive change within the legal profession by creating opportunities for Hispanic lawyers and by helping generations of lawyers to succeed, according to its website. The Latina Commission aims to inform and shape the policies and priorities that affect women lawyers and the legal culture in which they practice, creating forums for the exchange and expression of the views of Latina lawyers, and serving as a voice to advocate for these views.
Commissioners are appointed by the HNBA president to serve a year-long term. As a member of the organization, Gonzalez presented on anti-corruption during the 2020 HNBA Corporate Counsel Conference & Annual Convention and participated in the Latina Executive Leadership Program in 2019/2020. In 2021, she served as a volunteer in the HNBA's judicial endorsement process and was named to the 2021 HNBA 'Top Lawyers Under 40' list.
At Greenberg Traurig, Gonzalez serves as co-chair of the firm's Latino Affinity Group, Somos GT (We are GT). The group brings together the firm's Latino community and allies and provides a forum for all attorneys to make connections, build relationships, and share ideas.
Gonzalez, an attorney for the firm's White Collar Defense & Special Investigations Practice, focuses her practice on international corporate compliance matters and more specifically, the Foreign Corrupt Practices Act (FCPA) and the UK Bribery Act. Gonzalez assists clients around the world to design, build, and implement anti-corruption compliance policies and procedures consistent with the elements of an "effective compliance program" under U.S. Department of Justice (DOJ) and Securities and Exchange Commission (SEC) guidelines.
About Greenberg Traurig's Diversity Initiative: From its inception, Greenberg Traurig has been committed to diversity, equity, and inclusion in the workplace. Greenberg Traurig is a uniquely empowering and diverse firm built on a foundation of fairness, equality, and authenticity. Through its Social, Racial, and Economic Justice Action Plan, the firm has committed $5 million over five years to help combat systemic racism and support impoverished communities. In addition, the firm's efforts have been recognized through its Mansfield Rule 4.0 Certification Plus, administered by The Diversity Lab, and by local, national, and global publications and organizations including Chambers and Partners. Web: https://www.gtlaw.com/en/general/our-firm/diversity Twitter: @GT_Drives.
About Greenberg Traurig, LLP – Texas: Texas is important to Greenberg Traurig, LLP and part of its history. With approximately 130 Texas lawyers in Austin, Dallas, and Houston, Greenberg Traurig has deep roots in the Texas business, legal, and governmental communities. Greenberg Traurig Texas works with clients to address their interdisciplinary legal needs across the state utilizing the firm's global platform. The Texas attorneys are experienced in industries key to the state's future, including: aviation, chemicals, construction, education, energy and natural resources, financial institutions, health care, hedge funds, hospitality, infrastructure, insurance, media, medical devices, pharmaceutical and biotechnology, real estate, retail, sports, technology and software, telecommunications, transportation, and video games and esports.
About Greenberg Traurig: Greenberg Traurig, LLP (GT) has approximately 2300 attorneys in 40 locations in the United States, Latin America, Europe, Asia, and the Middle East. GT has been recognized for its philanthropic giving, diversity, and innovation, and is consistently among the largest firms in the U.S. on the Law360 400 and among the Top 25 on the Am Law Global 100. The firm is net carbon neutral with respect to its office energy usage and Mansfield Rule 4.0 Certified Plus. Web: http://www.gtlaw.com