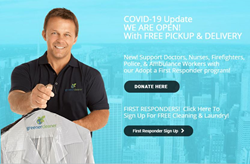 Tackling these two problems with one solution was my goal
CHICAGO (PRWEB) March 31, 2020
As busy first responders like doctors, nurses, and EMT's are being asked to work overtime, many no longer have the time left in the day to do simple things like having their hospital scrubs, lab coats, and uniforms cleaned.
Meanwhile, with nearly all offices and businesses closed down, the need to clean business attire has been dramatically reduced, leaving dry cleaners and launderers with excess capacity.
To solve both problems at once, The Greener Cleaner, a Chicago based company that offers pick-up and delivery across Chicagoland, recently announced an "Adopt a First Reponder" program.
The program is a way for the public to donate laundry and cleaning services to local first responders via a GoFundMe page. 100% of funds donated are in turn given as credit towards cleaning services of verified first responders.
"Tackling these two problems with one solution was my goal", said Michael Bleier, owner of The Greener Cleaner, said. "We wanted a way to both help our first responders, but also to keep our employees working", Bleier said.
First responders are encouraged to apply for free dry cleaning and laundry through the Greener Cleaner website. Anyone signing up for free services will be given credits in blocks of $100, as long as there are funds available via the donation site.
For more information, visit http://www.greenercleaner.net.