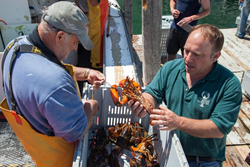 Robert Peregrina, Hiperbaric USA director, said, "We're excited to provide Greenhead Lobster the opportunity to broaden their market with value-added lobster products. HPP is increasingly being used in the seafood industry to provide safe and healthy products."
DORAL, Fla. (PRWEB) October 29, 2019
Greenhead Lobster, a lobster processing company in Stonington, Maine, has added a Hiperbaric high pressure processing (HPP) machine to expand its lobster processing operations.
The company recently opened a new production facility in Bucksport, Maine, which uses the Hiperbaric 420i to process lobster, extracting meat from the shell. The machine is also used for food safety to inactivate harmful foodborne bacteria, as well as provide extended shelf life.
Greenhead Lobster processes 30,000 pounds of lobster per day, with some of the meat distributed fresh and some frozen. The company sells its lobster meat to restaurants, retail channels, and also direct to consumers via its website.
Hugh Reynolds, Greenhead owner, said, "With the addition of our state-of-the-art processing facility, Greenhead is now able to process various cooked and raw lobster products. This expansion, featuring the Hiperbaric 420i, expands our market beyond live lobster without compromising the traceability of our products from sustainable, well-managed fisheries."
Hiperbaric is the world's leader in HPP machines and services. The company provides a wide range of HPP machines to companies and tollers in the food and beverage industry. In addition to seafood, HPP is used for meats, dairy, premium juices and other beverages, wet salads, baby food and pet food.
Robert Peregrina, Hiperbaric USA director, said, "We're excited to provide Greenhead Lobster the opportunity to broaden their market with value-added lobster products. HPP is increasingly being used in the seafood industry to provide safe and healthy products."
About Greenhead Lobster
Greenhead Lobster, located in the Penobscot Bay of Maine, an area renowned for its superior quality lobsters, has been in the industry since 1997 as a family-owned and operated business. Only the highest quality lobsters brought to the Greenhead Lobster buying stations located in Stonington, Maine, have been sold worldwide. For more information, visit http://www.greenheadlobster.com.
About Hiperbaric
Hiperbaric is the world's leading manufacturer of High Pressure Processing (HPP) equipment for the food industry. Since 1999, Hiperbaric has been involved in the design, technology, production and commercialization of HPP equipment. The company is known for its reliability, customer support, teamwork and continuous innovation through its R&D efforts.
Hundreds of companies worldwide use Hiperbaric machines for processing meat, fish and seafood, fruit and vegetables, juices and other beverages, dairy and ready-to-eat meals. Headquartered in Spain, the company's North American operations are in Miami. For more information, visit http://www.hiperbaric.com.