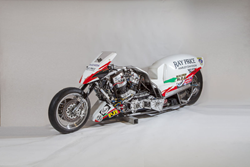 "If more museums did shows like this, more people would love art," said GreenHill executive director Laura Way.
Greensboro, NC (PRWEB) May 30, 2017
The motorcycle holds an iconic place in America. From the "Easy Rider" Captain America chopper, to the Harley-Davidson Street 750 featured in "Captain America: The Winter Soldier," to the Beach Boys' "Little Honda," motorcycles have played a leading role in movies and culture since the early 1900s. With such a significant impact on society, GreenHill Museum in Greensboro, N.C. has curated the "Motorcycle. Art. Design" (M.A.D) exhibit to celebrate these two-wheel freedom machines as works of art.
M.A.D is a multimedia, experiential exhibition that combines art, sound, industrial design and cultural elements to immerse visitors in the story of the motorcycle. It opened in February of this year and its run lasts just a couple more weeks, through June 8, 2017.
The family friendly exhibit can be appreciated by both motorcycle enthusiasts and those who prefer hitting the open road on four wheels. From posters and memorabilia to authentic riding gear and accessories, guests will experience and interact with cultural elements related to the sport of motorcycling.
"We've assembled a multimedia exhibit of the innovation and beauty of motorcycling culture," said Laura Way, GreenHill executive director. "The show has proven to be very popular across all age groups."
Entering the gallery, visitors first encounter a montage of film clips featuring bikers in their element. They then get a feel for the thrill of riding thanks to a kinetic video projection of GoPro footage, racing taillights, flashing red LED strips and a large-scale vinyl design that wraps around the gallery's exterior walls. The exhibit's visual environment is the work of Charlotte artist Ivan Toth Depena.
A sound installation by UNC School of the Arts student Evan Cook fills the museum with the hum of motorcycle engines in the background.
"All of these elements combine with some of the most interesting motorcycles in the Southeast to create a unique platform for us to showcase the creativity and artistry of the biker culture," said Way.
Moving through the exhibit, visitors see vintage riding apparel and other memorabilia before entering a makeshift biker bar; a saloon that displays iconic motorcycle films on screen and features a graffiti wall that welcomes motorcycle riders' stories about the culture and its impact on their lives.
The exhibition also refutes various myths and stereotypes associated with biker culture. While traditionally thought of as a masculine sport, the impact of women on motorcycle culture is displayed with attire and images from The Motor Maids of America, established in 1940 as the first riding club for women. The show is a reminder of the diversity in motorcycling through the years.
Gallery walls also display an expansive timeline with stories of the 24 one-of-a-kind motorcycles in the exhibit, which date from 1898 to the present. Each motorcycle is curated from North Carolina collectors and dealerships from the mountains to the coast.
Way's team enlisted the help of motorcycle enthusiasts Ozzie Scofield of Winston-Salem and Ed Rich of Asheboro to help encourage other North Carolina collectors and dealers to loan their bikes.
Scofield served as chairman of the American Motorcycle Heritage Foundation. Rich shared three bikes from his collection at the American Classic Motorcycle Museum in Asheboro, including his replica of the 1951 Captain America chopper made famous by Peter Fonda in "Easy Rider."
Among the motorcycles in the M.A.D showcase is the late drag racing legend Ray Price's 1975 Harley-Davidson Sportster Funny Bike, which features a 107cc engine with 450 horsepower and top speed of 182 miles per hour. Contrast that with his 2000 Top Fuel Harley-Davidson Nitro Drag bike, which pumps out more than 1,200 horsepower and visitors get a feel for the hall-of-famer's remarkable knack for speed and innovation.
"Ray would be honored and humbled to be a part of the GreenHill exhibit," said Mark Hendrix, general manager of Ray Price, Inc. "His passion for drag racing is only equaled by his love of sharing the gospel of the sport of motorcycling, which the M.A.D exhibit captures so well."
Also on exhibition, a 2005 Confederate F113 Hellcat and an extremely rare 2016 Vyrus 986-M2, one of only 16 produced from Italian manufacturer Vyrus Motori. The Vyrus is assembled in America by Bimota Spirit's master builder Robert Steinbugler, a Raleigh resident and former endurance racer.
Other unique motorcycles on display include a 1898 Thomas Auto-Bi, a 1914 Harley-Davidson Single Cylinder, a replica of James Dean's 1955 Triumph Trophy, a 1956 Indian Fire Arrow, a 1960 BMW R26, a 1986 Suzuki GSX-R 750, and a 2000 Ducati 907 Paso, among others.
Whether visitors have felt the freedom of riding a motorcycle on the open road, or just wonder what it would be like, M.A.D engages the senses with a fun, must-see collection of motorcycle culture and two-wheeled works of art.
"If more museums did shows like this, more people would love art," exclaims Way.
The clock is ticking on this exhibition as it wraps up June 8. Admission to GreenHill for the M.A.D exhibit is $8 for visitors 16 and older. Tickets can be purchased at the museum or online: http://www.GreenHillNC.org.