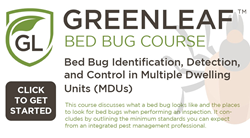 It's not just spray and pray. Bed bug management involves an integrated approach and good partnership.
TORONTO (PRWEB) September 01, 2020
GreenLeaf Pest Control is excited to announce that they have launched their much-anticipated bed bug training course to help people from all walks of life better understand how to deal with bed bug problems.
These frustrating creatures spread by hitchhiking on people's luggage, clothing, or even infested furniture, and they can quickly take over a home, apartment complex, hotel, or any other place where people spend a lot of time.
Worse, living or working with bed bugs can be incredibly taxing. Beyond the general anxiousness and stress that come along with serious infestations, some people suffer allergic reactions or develop skin infections from their bites.
The new bed bug training course at GreenLeaf is designed to combat the rampant misinformation about bed bugs on the internet by educating people about bed bugs and teaching them the proper protocol for dealing with a possible infestation.
"Let's face it," said program creator Sandy Costa. "If you can make an educated and informed decision when encountering bed bugs, the likelihood of bed bugs going undetected or causing unnecessary spread is greatly reduced."
GreenLeaf's course teaches basic biology, where to look for and find bedbugs, how to engage in monitoring, and how to dispose of infested items. According to Costa, "It's not just spray and pray. Bed bug management involves an integrated approach and good partnership."
The course is designed for anyone who wants to know about bed bugs, from facilities managers and cleaning staff to homeowners and university students to public health officials and exterminators. If there is a possibility that someone could come into contact with bed bugs at work or home, this training can benefit them.
Anyone interested in taking the bed bug training course should visit GreenLeafPestControl.com or contact GreenLeaf Pest Control directly at (416) 998-9473 or by emailing info@greenleafpestcontrol.com.