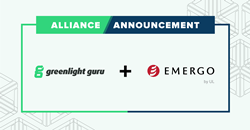 "Our relationship with EMERGO by UL seeks to streamline this process by pairing Greenlight Guru's purpose-built quality management system alongside EMERGO by UL's award-winning consulting services."
INDIANAPOLIS (PRWEB) April 27, 2020
Greenlight Guru, the med-tech industry's leading medical device quality management software (MDQMS) platform, has teamed up with EMERGO by UL, the industry's leading consulting firm specializing in global medical device regulatory compliance. Together, they will offer an all-in-one quality management and regulatory affairs solutions package for medical device companies looking to grow and scale globally.
Through this strategic alliance between two of the industry's most trusted brands, medical device companies gain access to Greenlight Guru's modern, cloud-based MDQMS platform and EMERGO by UL's industry-leading Quality Management System (QMS) consulting services and cloud-based Regulatory Affairs Management Suite (RAMS). Greenlight Guru's MDQMS platform enables closed-loop quality traceability for real-time audit readiness, while accelerating product development activities. EMERGO by UL consultants help companies implement and maintain quality systems to ensure medical device regulatory compliance across more than 20 markets, and RAMS provides digital tools to manage registration and certification documents, monitor the latest regulatory updates, as well as coordinate registrations and renewals.
This strategic alliance creates automated capabilities for medical device manufacturers to bring devices to market faster and helps ensure success in a fast-changing industry. The strategic alliance will be fully operational by May 13, 2020.
"Legacy-based systems are all too common in the medical device industry; however, building a quality management system from scratch or phasing out an old system can be a daunting task," said David DeRam, CEO of Greenlight Guru. "Our relationship with EMERGO by UL seeks to streamline this process by pairing Greenlight Guru's purpose-built quality management system alongside EMERGO by UL's award-winning consulting services."
The State of Medical Device Product Development & Quality Management Report 2020 found that 81% of medical device companies are not using tools and processes designed for the medical device industry in their quality management processes. Furthermore, EMERGO by UL's Global Medical Device Industry Outlook for 2020 shows that less than 30% of survey respondents have implemented automated components of their RA/QA processes. The use of the Greenlight Guru software platform coupled with RAMS automated RA/QA capabilities allows organizations to move away from legacy and general-purpose tools that are burdensome and stifle innovation.
Furthermore, the joint offerings will allow organizations to:

Streamline and automate device design documentation and quality processes in alignment with major industry regulations and standards such as ISO, FDA, EU MDR, & MDSAP
Easily discover and access regulatory requirements by market
Automate the generation of error-free 510(k) submissions
Manage and monitor device registrations globally
Assure real-time audit readiness
Simplify market access and drive revenue growth with global in-country representation
Access a bench of QA/RA experts with insights and best practices from across the medical device industry, including mechanical and electromechanical devices, IVDs and digitally-enabled products such as Software as a Medical Device (SaMD)
"This relationship will help medical device companies establish a modern, integrated approach to quality and regulatory system strategy," said Michael Van Der Woude, Director & General Manager of Market Access at EMERGO by UL. "I am confident that our expertise in combination with Greenlight Guru's MDQMS platform will not only create peace of mind but also stimulate growth and help organizations navigate global regulatory changes with ease throughout the coming decade."
This announcement comes on the heels of significant enhancements to Greenlight Guru's Change Management and Risk Management workflows, the launch of Digital Design Reviews, and the company's sixth consecutive quarter as a G2 Crowd market leader in the quality management software category. In addition, EMERGO by UL recently launched Smart Builder market access tools for the RAMS platform, enabling automated preparation of documentation necessary for US FDA 510(k) and European MDR Technical File submissions.
For more information about this alliance and the bundled offerings, please visit https://www.greenlight.guru/alliance-emergo-by-ul.
###
About Greenlight Guru
Greenlight Guru is the only quality management software platform designed specifically for medical device companies. The platform helps companies bring safer products to market faster, simplifies FDA and ISO regulatory compliance and provides a single source of truth by connecting the management of all quality processes like CAPAs, risk, audits and more. Greenlight Guru's platform is used by thousands of users across the globe to push beyond baseline compliance and achieve True Quality for their medical devices. For more information, visit http://www.greenlight.guru.
About EMERGO by UL
EMERGO by UL is the leading regulatory consulting firm specialized in global medical device and IVD compliance. Emergo's comprehensive solution is designed to help you achieve and maintain regulatory and commercial success. With a presence on six continents, Emergo can provide real-time service and on-the-ground expertise. Learn more about Emergo at EMERGObyUL.com.
About RAMS
Developed by experts at Emergo by UL, the RAMS suite of software helps device companies monitor the latest changes, prepare FDA 510(k) and MDR TD file submissions, coordinate registrations and renewals, facilitate regulatory procedures, and more. Learn more about RAMS.
Media Contact
Kate Johnson
kate_johnson@blastmedia.com
(317) 806-1900 ext. 144