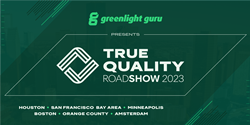 Our mission is to improve the quality of life, and bringing MedTech professionals together to connect and spark new ideas is an essential part of fulfilling that mission.
INDIANAPOLIS (PRWEB) February 01, 2023
Greenlight Guru, the leading provider of cloud-based software solutions for MedTech companies, today announced its 2023 True Quality Roadshow—a six city, international gathering of medical device professionals and industry stakeholders.
This series of free events will take place throughout 2023 and includes stops in five MedTech hubs in the continental US, as well as a stop in Amsterdam. The schedule is as follows:

Houston, TX – March
Bay Area, CA – April
Minneapolis, MN – May
Boston, MA – June
Orange County, CA – September
Amsterdam, the Netherlands – November
At each stop, the 2023 True Quality Roadshow will provide MedTech professionals with opportunities for networking, education, and inspiration. Each True Quality Roadshow event is free to attend, and will feature expert speakers and panel discussions. Attendees in every city will learn from some of the world's leading medical device experts as they share personal experiences, industry insights, and thoughts on the state of the medical device industry in 2023 and beyond. Networking and connection are at the heart of each event, and every attendee—whether their focus is in quality, regulatory, clinical, or product development—can expect to walk away with a newfound sense of connection to their local MedTech community.
The 2023 True Quality Roadshow comes on the heels of Greenlight Guru's first conference, True Quality 2022, which brought together more than 250 medical device professionals, leaders, and innovators in San Diego, CA. Now, Greenlight Guru is hitting the road once more, bringing back its True Quality Roadshow, which was attended by more than 500 members of the MedTech community when it was last held in 2019 and 2020.
"Our previous roadshows in 2019 and 2020 were hugely successful," said David DeRam, CEO of Greenlight Guru. "When COVID struck, we pivoted to virtual events that brought thousands of people together. Those numbers, combined with the unbelievable turnout and enthusiasm at last year's True Quality 2022 conference, made this the perfect time to revive the roadshow and help connect more MedTech professionals than ever."
Greenlight Guru saw substantial international growth in 2022 and made several acquisitions, including Denmark-based SMART-TRIAL. In 2021, the company received a $120 million investment from JMI Equity.
"Greenlight Guru is a global company with customers and employees all over the world. We're looking forward to making the roadshow an international series that gives our entire network opportunities to meet and learn from one another," said DeRam. "Our mission is to improve the quality of life, and bringing MedTech professionals together to connect and spark new ideas is an essential part of fulfilling that mission."
To learn more about the 2023 True Quality Roadshow or register for free, visit http://www.greenlight.guru/true-quality-roadshow.
About Greenlight Guru
Greenlight Guru is the leading cloud-based platform purpose-built for MedTech companies. The end-to-end solution streamlines product development, quality management, and clinical data management by integrating cross-functional teams, processes, and data throughout the entire product lifecycle. Greenlight Guru's platform is used by organizations across the globe that are replacing their disjointed, legacy tools and solutions to bring life-changing products to people faster, and with less risk. For more information, visit http://www.greenlight.guru.
Media Contact
PR at Greenlight Guru
pr@greenlight.guru