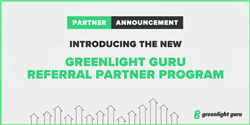 INDIANAPOLIS (PRWEB) August 06, 2020
Greenlight Guru, the medtech industry's leading medical device quality management software (MDQMS) platform, today announced the relaunch of its Referral Partner Program and expansion of the existing Channel Partner Community. This strategic decision introduces new opportunities to support forward-thinking quality and regulatory consultancies leading the movement away from legacy paper systems to help their clients bring safer higher-quality medical devices to market faster.
Greenlight Guru's Referral Partner Program provides consulting firms with the opportunity to stand-out from their peers and gain thought leadership credibility by partnering with the leader in medical device quality management. Referral Partners are able to differentiate their offerings while demonstrating competency in the space.
"We originally started our Partner Program as a way to offer customers additional onboarding and MDQMS implementation support," said David DeRam, CEO at Greenlight Guru. "Since then, our program, solutions, and the entire organization have evolved to provide our customers added value by leveraging our superior partner ecosystem of industry leaders including both the largest quality and regulatory consulting firm in the world as well as the global leader in microbial testing."
The program also offers value to partners by:

Accelerating client success by enabling faster launch of impactful devices
Improving client productivity by avoiding risk of manual customizations
Completing more projects remotely, in less time, without the need for travel
Generating new revenue streams by offering a scalable industry-specific MDQMS platform
Marketing and business development opportunities
MDQMS Platform that derives client value within 60 days of initial onboarding
Exclusive access to product training and release updates
Dedicated partnership team
Revenue share and growth potential
"Using Greenlight has given me the ability to expand my company and expand the number of clients I've been able to support without hugely expanding headcount," said Kyle Rose, president at Rook Quality Systems.
Greenlight Guru also announced its new Affiliate Program. The program will allow the industry's independent consultants and smaller firms the ability to digitally transform the QMS implementation experience they deliver to their clientele without the commitments and requirements of other partnership models. Greenlight Guru affiliate partners will receive Guru Insider Benefits, access to the Greenlight Guru partner support team, and an optional revenue share on referrals.
For more information about the partner programs and Greenlight Guru's solutions, visit: https://www.greenlight.guru/partners
About Greenlight Guru:
Greenlight Guru is the only medical device quality management (MDQMS) software designed specifically for the medical device industry. Your mission as a medical device consultant is our mission - to improve the quality of life through your clients. We're an assortment of bright, talented, and interesting people united to bring a higher quality of life, by changing the way people make medical devices. In order to do that, we have three core values. Our software connects disparate processes, simplifies your daily processes, people, and data for the first time ever. Increased visibility smooths your path to compliance and puts True Quality within reach. For more information, visit https://www.greenlight.guru.
Media Contact
Kate Johnson
kate_johnson@blastmedia.com
317-806-1900 ext. 144