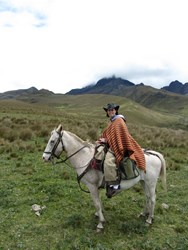 We are proud to be featuring local, unique and green certified lodges and guiding companies that offer travel experiences that are fully customizable, community oriented, socially aware and unforgettably awesome.
Vienna, Virginia (PRWEB) January 14, 2014
Global ecotourism concierge, Greenloons has added three family-friendly and sustainable travel experiences for 2014 for those travelers and their children who seek unforgettable journeys to iconic destinations that respect the world, its cultures, and the future.
These select journeys offer opportunities to gain instruction about indigenous wildlife and local folklore, participate in cycling, hiking and cooking activities, stay at distinctive lodgings, and immerse themselves in the local culture.
"If your travel resolutions this year include going to Brazil for the World Cup, fulfilling the family's wish to see the Galapagos Islands or exploring the diversity of Australia, these adventures will not disappoint," says Irene Lane, founder of Greenloons.
Chapada Diamantina Family Adventure is a unique experience through the region of Bahia in Brazil, which combines culture as well as plenty of hiking, cycling, and culinary adventures. First, guests will discover the history of Brazil's original capital, Salvador del Bahia while participating in private cooking and capoeira classes. Then, explorations will continue by foot and bicycle through the Chapada Diamantina, which comprises one of the most beautiful landscapes of table top mountains, canyons, valleys, trails, caves, and waterfalls in Brazil. (8 days; flexible departures; from $2,950 per person including locally owned accommodations, most meals, transport, activities, and local guides.)
Ecuador Cultural & Wildlife MultiSport Adventure allows travelers to explore the very best of Ecuador's Andes Mountains, Amazon Rainforest, and Galapagos Islands in a different way. Guests will hike a glacier-capped volcano, explore a historical hacienda on horseback, raft a jungle river, discover the spiritual world of the Kichwa Indians, and relax in mineral rich hot springs as well as snorkel and sea kayak pristine seas full of marine life. (10 days; flexible departures; from $2,950 per person including locally owned accommodations, meals, transport, activities, and naturalist guides.)
Tasmania Walking & Wildlife Expedition allows travelers to experience one of Australia's great walks. Set on Maria Island, a world heritage listed national park just off the east coast of Tasmania, this gentle four day guided walk combines rare Tasmanian wildlife, spectacular scenery, and fascinating history. Dubbed the 'Noah's Ark for Endangered Wildlife', guests on Maria Island will see Tasmanian kangaroos, wallabies, wombats, and echidnas as well as unique birdlife including the endangered forty spotted pardalote, Cape Barren geese (the world's second rarest breed), and eagles while learning about the conservation efforts underway for saving the endangered Tasmanian Devil. (4 days; flexible departures; from $2,200 per person including accommodations, locally sourced gourmet meals with wine, transport, activities and naturalist guides.)
About Greenloons
Greenloons is a premier online travel resource dedicated to inspiring people to think different, be different and travel different – in ways that help to ensure a more sustainable planet. In addition to being a 2013 recipient of National Geographic Traveler magazine's 50 Tours of a Lifetime, Greenloons is an advocate of social empowerment, financial viability, and environmental preservation connecting mindful travelers with unique and eco-certified travel experiences all over the world.