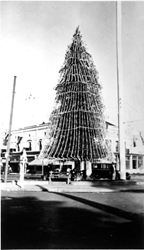 We are truly aiming to be the number one restaurant in the Inland Empire.
Redlands, California (PRWEB) December 08, 2016
Greensleeves Steakhouse announces its opening date for private events of December 14, 2016, with a public opening during the week of December 25, 2016. Since the restaurant announced its #SaveGreensleeves campaign two weeks ago, community members have been submitting old photos and stories to memorialize Redlands within the restaurant's walls as much as the brick walls themselves.
General Manager Charles Gipson, a classically trained chef and local Inland Empire resident, attests, "The Greensleeves Steakhouse building and its history are truly magnetic. We hope this same energy captivates the community." Gipson's passion for details drove him to Le Cordon Bleu in Pasadena, California and later to join celebrity chef Susan Feniger's Hollywood restaurant STREET. He is committed to the community feeling the joy and passion poured into this project.
Joe Greensleeves occupied the restored space in 1982, and was known for fine dining in the heart of Redlands. The building received the Redlands Historical Society Heritage Award in 1985, and the details of the brickwork and design of the original building can still be seen. A multi-phase renovation will completely redesign the space while maintaining its character, which also allows for getting people back to work as soon as possible before the holidays.
Greensleeves Steakhouse will feature a sophisticated modern interior with a significant nod to its historic roots. The menu will consist of an impressive selection of meat and locally purchased produce, as well as a variety of vegetarian dishes. Greensleeves Steakhouse aims to ultimately not only provide a stellar dining experience, but to also offer an inviting place to grab a drink and gather with friends. "Imagine being out on the upstairs patio with a local craft beer or delicious mixologist-crafted cocktail in-hand… or in our upscale yet comfortable private dining room with friends and family," poses Gipson.
The chef, Daniel Fernandez, who at a young age has already seen great success in the cutthroat culinary environment of Hollywood, recently moved to Redlands with his family. Fernandez, as an established chef, was instrumental in the success of celebrity hangout The Nice Guy, providing in-house catering for events such as birthday parties for Miley Cyrus and the Jenner sisters. "The Greensleeves Steakhouse space already has a place in history," states Fernandez. "Now it's time to turn this restaurant into a destination for the Redlands community, Inland Empire, Orange County, and beyond. If you're on your way to Palm Springs or Vegas, stop in and enjoy."
Adds Gipson, "Our goal is for people to not just have a meal, but to have an experience. We are truly aiming to be the number one restaurant in the Inland Empire."
For information regarding booking a private event, please contact info@greensleevessteakhouse.com or call 909-335-1752.
About Greensleeves Steakhouse
Greensleeves Steakhouse is located in the heart of Redlands, California at 220 Orange St. For more information and to join our email list, visit http://greensleevessteakhouse.com.
Like us on Facebook.