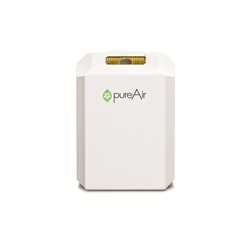 "Scientists have long known ionization is one of nature's most effective defenders against airborne mold, bacteria, and viruses,"
JOHNSON CITY, Tenn. (PRWEB) November 25, 2020
Against the COVID-19 pandemic gripping the United States, and as the nation enters the official flu season, GreenTech Environmental is thrilled to release laboratory test results of its personal air purification product, the pureAir SOLO against the swine flu.
While global scientists continue to develop early-stage research on novel coronavirus (SARS-CoV-2), the virus that causes COVID-19 disease, testing on other flu viruses, such the H1N1 virus, can supply invaluable insight into potential mitigation of coronavirus.
To supply science-based facts about ionization air purification and their other forms of active air purification, GreenTech Environmental has commissioned independent third-party laboratory testing for its products.
The first of these tests provides consumers with an additional layer of security during this particularly difficult flu season.
The results show remarkable efficacy of ionized air against the H1N1 swine flu virus. GreenTech Environmental's wearable ionization device, the pureAir SOLO, which emits ions, reduces virus exposure up to 99%. Complete results here: https://bit.ly/SOLOvsfluvirus
The pureAir SOLO, and the more recently released pureAir PERSONAL, work by emitting ions which actively neutralize volatile organic compounds (VOC) as well as bacteria, viruses, and mold. The ions surround the wearer's ambient air and effectively act as a barrier that protect against VOCs.
"Scientists have long known ionization is one of nature's most effective defenders against airborne mold, bacteria, and viruses," said GreenTech Environmental's CEO Allen Johnston.
"These independent results prove our devices are an effective tool in virus mitigation and we hope consumers use them as an effective tool in flu mitigation to keep themselves and family members shielded against the flu this holiday season,"
GreenTech Environmental reminds all air purification customers that devices which use "active" technologies such as ionization, including the pureAir SOLO and pureAir PERSONAL, are effective only when in use and the company recommends consumers continue to follow all CDC guidelines as part of virus mitigation.
About GreenTech Environmental: Founded in 2009 in Johnson City, Tennessee, GreenTech Environmental is a leader in natural and safe air purification systems. GreenTech's technologies are available for consumers with portable and personal systems available and commercial HVAC systems for use in office buildings, hotels, in-door stadiums and more. GreenTech Environmental is best known for its proprietary and multi-pronged, naturally generated air purification technology, Active Radiant Catalysis (ARC®) which continuously and actively sanitizes the air and surfaces in thousands of homes and commercial buildings in the United States.
For more information:
greentechenv.com
Facebook | Twitter | Instagram
Media Contacts:
Lara Miller or Tara Coomans
press@avaansmedia.com