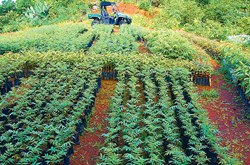 The small scale approach of boutique style hotels represents a significant positive influence for a long-term sustainable hospitality industry in Costa Rica.
San Ramon, Costa Rica (PRWEB) August 27, 2013
The second anniversary of the GTQH (Greentique Hotels) group's "Tree Adoption Program" nears, and it is an exciting time for the GTQH member hotels. This group of hoteliers has implemented a number of programs and approaches that are designed to enhance and expand sustainable tourism in Costa Rica.
When asked why the group was so excited about the upcoming anniversary, Jim Damalas, CEO and General Manager of Greentique Hotels said, "Continuing such positive ecologically based incentives is a big step forward for sustainable tourism."
The idea of the "Adopt a Tree" program was a way to help offset the carbon dioxide producing influence of human activity. Drawing people to the pristine ecology of Costa Rica made it clear that the planting of trees was one of the things that could be done to decrease the impact [carbon footprint] tourism has within Costa Rica and to also serve as a model to other countries looking to reduce their footprint on the environment.
The act of adopting a tree and receiving a "Tree Adoption Certificate" gives tourists, both local and international, a tangible example of responsible eco-friendly tourism. The hotels in the GTQH Group sponsor the planting of trees and provide an adoption certificate to many people who take part in a number of activities sponsored by this green friendly hotel group.
"The small scale approach of boutique style hotels represents a significant positive influence for a long-term sustainable hospitality industry in Costa Rica," the well-respected green entrepreneur added.
"The small impact approach of boutique hotels is more ecologically and community oriented than the monolithic corporate structures now descending upon Costa Rica with huge buildings that overshadow the landscape and dwarf small local communities," Mr. Damalas said.
The Greentique hospitality specialists are involved in many activities that directly assist communities and lead the way with actions that will have a positive impact on the environment itself.
The hosting of the The Carbon War Room is one example of proactive leadership in the area of environmental conservation. This organization is headed by Costa Rican President Jose Maria Figueres and endorsed by the Virgin Airline's founder Richard Branson, and made up of both local and international environmental leaders.
Whether the event is held in the Los Angeles Cloud Forest at Villa Blanca, a Costa Rica airport hotel, the majestic and spellbinding Manuel Antonio at Si Como No Resort or even Drake Bay on the Osa Peninsula in Aguila de Osa Inn, the process is the same. Participation in some activities at these establishments is rewarded with a tree being adopted on the participants' behalf and then giving these participants a "Tree Adoption Certificate" so they can return home knowing that they contributed in some capacity, to helping sustaining this biological gem.
The GTQH Group has already sponsored the planting and ongoing maintenance of 10,000 trees native to Costa Rica.
The Greentique Hotels are acknowledged leaders in bringing green practices to the hospitality industry in Costa Rica with the underlying philosophy of developing a template for other tourist based businesses to follow so they can help expand ecologically responsible tourism.
The education of tourism entrepreneurs as well as tourists is a goal of this ecologically based group of hoteliers.
"Large and small scale activities are needed to turn the corner to a wide ranging sustainable business approach," Jim Damalas said.
Some of the steps to this goal could be to use energy efficient light bulbs, establish a total recycling program, as well as the use of biodegradable and non-toxic products.
On a larger scale, helpful approaches include solar energy projects, a water treatment infrastructure and the use of recyclable building materials.
The education of children and adults by interacting with local schools and communities would aid in pointing businesses as well as the general populace down the green highway.
Greentique Hotels (GTQH) has been recognized by various groups through awards and titles that include:
The Blue Flag Ecological Program Award - Recognition for organizations that maintain strict adherence to rules of behavior in the categories of Water Quality, Environmental Education and Information and Environmental Management that promotes sustainable environmental conditions.
Bandera Azul Ecologica award - Recognizes the effort and volunteer work in the quest of conservation and growth that is consistent with the safeguarding of natural resources and the achievement of measures to deal with climate change.
Corporate Sustainable-Trend Setter Award - With this award the Rainforest Alliance recognizes organizations as trend setters in sustainable business practices.
5 Green Leaves Certificate for Sustainable Tourism - The 5 green leaves are recognition of the highest level of sustainable tourism achievement.
About Greentique Hotels
Established in March 2004, Greentique Hotels would soon become one of the major players on the global sustainability movement. Winner of countless international and national awards & recognitions, Greentique Hotels believes in sustainable "green" travel.
For more on Greentique, visit their website at http://www.greentiquehotels.com.
Currently there are three GTH members in Costa Rica and they are:
Si Como No - http://www.sicomono.com
Villa Blanca - http://www.villablanca-costarica.com
Aguila de Osa - http://www.aguiladeosa.com