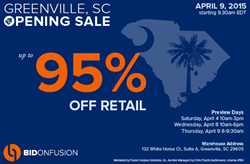 "We're thrilled to introduce our weekly live auctions in the South", says BidOnFusion's CEO, Sebastian Baerend
Greenville, SC (PRWEB) April 07, 2015
BidOnFusion.com has opened a new 65,000 square foot warehouse in Greenville, and to celebrate, the company will hold one of the Nation's largest retail auctions at their warehouse grand opening sale on Thursday, April 9, 2015. The growing merchandise liquidation company will host its first-ever live auction in the South with 400 to 500 lots of wholesale goods direct from major retailers including Walmart, The Home Depot, Costco and Target.
"We're thrilled to introduce our weekly live auctions in the South," said Sebastian Baerend, CEO of BidOnFusion.com. "Our live auction events have proven hugely popular in our Arizona and Indiana warehouses, growing to the point of now being some of the largest retail auctions in the US. This new Greenville warehouse will enable us to better serve our customers in the South by providing them with easier access to some of the liquidation industry's best wholesale merchandise."
The April 9 auction will feature 450+ skid lots (pallets) of retail returns, overstock inventory and shelf pulls direct from some of the world's largest retailers. Bidding starts at $10 per pallet with no reserve. The BidOnFusion.com warehouse is located at 132 White Horse Court, Suite A, Greenville, SC 29605. Bidders unable to travel to Greenville can participate online at http://www.bidonfusion.com and have items shipped throughout North America via BidOnFusion's Hub-to-Hub Shipping Program for up to 87 percent off standard commercial freight shipping rates.
"These weekly live auctions are a great, unique opportunity for online resellers, flea market vendors and everyday consumers to purchase merchandise in bulk directly from retailers at prices up to 95% off the original retail price," says Baerend. Available inventory includes electronics, toys, apparel, home goods, BBQ grills, power tools and more from brand names such as Ozark Trail, Ryobi, Keurig, Husky, Ridgid, Dyson, Magic Chef, Honeywell, GE, Apple and others.
Prospective bidders are encouraged to register online in advance for free. BidOnFusion's auctions are open to the general public.
Auction Details:
Preview Days - Wednesday, April 8, 10 a.m.–6 p.m. and Thursday, April 9, 8 a.m.–9:30 a.m. EDT
Auction day - Thursday, April 9, beginning at 9:30 a.m. EDT until everything is sold.
Local Pickup/Removal of Goods:

Following the auction on Thursday, April 9 until 6 p.m.
Friday, April 10, 8 a.m.– 4 p.m.
Saturday, April 11, 8 a.m.–2 p.m.
About BidOnFusion
BidOnFusion.com is a marketplace for wholesale merchandise. They liquidate consumer returns and overstock inventory on behalf of Fortune 1000 retailers, such as The Home Depot, Target, Costco and Walmart. Their liquidation stock is available in a comprehensive range of product categories and lot sizes, from their hugely popular "HotBoxes" to Pallets, Truckloads and more. Through both their online auctions and live auctions, clients are able to purchase bulk lots direct from some of the world's largest retailers at prices historically only available to large scale liquidators.