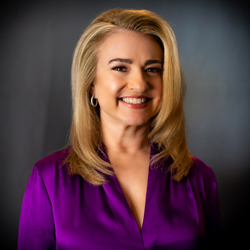 BROOKLYN, N.Y. (PRWEB) May 14, 2020
Jennifer Litwin, a financial services executive with 24 years of experience, is joining The Forem to address growing demand for Diversity & Inclusion solutions within this sector. She will also serve as a Career Mentor.
Litwin joins after spending over 13 years with Greenwich Associates, where she was Senior Vice President and Head of Relationship Management. Also a professional musician, Jennifer holds a B.M. in Vocal Performance from Oberlin Conservatory of Music and an M.M. from Yale University School of Music.
In her role, Litwin served as Greenwich Associates' primary voice to the buy side, building strong relationships with clients and helping to secure consistent participation in Fixed-Income, Foreign Exchange, and Equities studies from top-tier financial institutions across the globe. She also established the Relationship Management team and has spoken at numerous industry events covering topics ranging from Transaction Cost Analysis to Diversity & Inclusion initiatives. Prior to this, she spent almost six years with UBS Investment Bank, where she was a senior sales-trader, and began her financial services career with AIG Financial Products Corp.
Having risen up the ranks, she brings first-hand knowledge of career development, deep relationships, a unique energy, and a proven commitment to client service to The Forem. "I believe in the power of relationships and am so excited to start my next chapter with a firm dedicated to democratizing career advancement," said Jennifer Litwin. "While it is no doubt an unsettled time for a reinvention, I am inspired by what The Forem team has built. It is truly the best of technology and executive insights that propels our members' careers forward in an unparalleled way. We are teaching members how to be more visible in a remote world, something that is more relevant now than ever before."
Alli Young, Founder and CEO of The Forem added, "Jennifer's depth of experience as a career operator in the financial services space will ensure we build and support this vertical with the exact solutions needed to finally instill lasting change and level the playing field."
More information about Jennifer Litwin is available at the company's About Us page at https://theforem.co.
The Forem's comprehensive end-to-end Career Advancement Program empowers employees to own their career development. By mastering a curriculum grounded in the 5 Critical Skills, developed by Founder and CEO Alli Young, employees are armed with a toolkit they can leverage throughout any stage of their career. By teaching employees the tools they need to work smarter, not harder, The Forem ensures their members maximize their every opportunity to be seen for their impact.
For more information, contact:
Sarah Crandall
Director Programming
sarahcrandall@theforem.co
https://www.theforem.co
LinkedIn