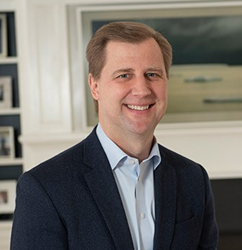 "GID is well-prepared for the future investing in people, technology, and processes to secure our leadership position in the industry well into the future. GID will grow strategically and with purpose in our primary business lines while staying true to our core values."
BOSTON (PRWEB) February 05, 2021
Leading national real estate company GID today announced that Gregory S. Bates has been named Chief Executive Officer, in addition to his current position as President of the company. In this new role, Bates becomes responsible for providing strategic and day-to-day leadership. He will continue to serve on the Executive Committee and on the various Investment Committees of GID; sourcing new capital relationships; providing direct management oversight of GID's investment management businesses; and investigating new business lines for the company. His appointment is effective as of January 1, 2021. Former CEO Robert E. DeWitt retains the position of Vice Chairman and will remain active in the company for the foreseeable future as he continues to be an involved member of the Executive Committee and various Investment Committees.
"A great deal of thoughtful and transparent planning has gone into this transition over an extended period of time," stated Gardner Wallace, Chairman of GID. "GID is stronger now than at any point in our 60-year history and Greg brings not only a commitment to preserving the legacy of the company but using our many strengths to grow the enterprise. His real estate investment, development and operating knowledge, leadership skills, sound judgement and talent for inspiring others will ensure our continued success in the future."
Previously, Mr. Bates was President and COO of GID. He joined the company in January 2017 after working six years at privately-owned Building and Land Technology (BLT) in Stamford, CT, where he built and led BLT's third-party real estate private equity platform. Prior to BLT, Mr. Bates was an executive at GE Real Estate and served the company in various capacities over a 17-year career.
"I wish Greg continued success as he moves into his new position," stated Bob DeWitt, GID Vice Chairman. "I am passing the torch to the next generation of leaders and am confident Greg and his team will continue to enhance our firm's standing in the industry and amongst our key partners, many of whom are the most sophisticated investors in the world. I am humbled and proud to have led GID over the last 23 years through a period of significant transformation and growth."
"I am excited to build on GID's strong foundation and culture, which has been cultivated over six decades. We have an incredibly talented leadership team and proven investment partners," said Greg Bates, GID President and CEO. "GID is well-prepared for the future investing in people, technology, and processes to secure our leadership position in the industry well into the future. GID will grow strategically and with purpose in our primary business lines while staying true to our core values."
Bates most recently participated in the 2020 MFE Executive Leadership Panel and 2019 NMHC Diversity and Inclusion panel. He is a member of the Urban Land Institute's (ULI) Multifamily Blue Council, National Multifamily Housing Council (NMHC), Pension Real Estate Association (PREA) and Up for Growth, a non-profit organization committed to supporting a pro-housing agenda that works for communities of all sizes, in all parts of the country.
Bates and his wife Elise are Founders and Board Members of E•A•T (End Allergies Together), an organization focused solely on raising money for food allergy research. They have a daughter with severe food allergies which prompted their dedication to fund allergy research.
Mr. Bates received a BA degree from Dartmouth College and an MBA from Harvard Business School.
About GID
GID is a privately held and fully integrated real estate company that develops, owns, and operates a premier portfolio of multi-family, industrial, and mixed-use development space. Headquartered in Boston, Massachusetts, GID is an experienced real estate private equity investor and fund manager supported by a vertically-integrated operating platform and has deep expertise across multiple asset classes. GID's existing and under-development properties are valued at $19 billion.
During its 60-year history, GID has acquired or developed over 79,000 residential units and 16.8 million square feet of commercial space in twenty-four states. The current portfolio includes 37,000 residential units and 5.5 million square feet of commercial space. GID's development activities include more than 9,000 units and 2.5 million square feet of commercial space currently under construction or in the pipeline. More information is available at http://www.gid.com.
# # #