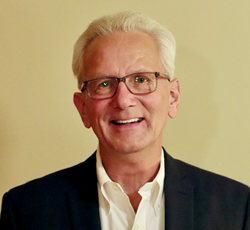 The Website is the Heart, Soul, Foundation, and Lifeline of Every Small Business. A Strong Website Must Build Trust, Educate, and Elicit Action to Succeed.
HAMILTON, N.J. (PRWEB) April 07, 2020
Greg Gootee Introduces BaddaBingWebsite.com in Response to Small Business Owners' Urgent Need for an Online Presence in the Wake of the Coronavirus Pandemic
A new division of UCA Marketing Authority, Badda Bing Website, has been launched to help small business owners shuttered by the Coronavirus pandemic, so they can get up and running - and back in business quickly - online. For a limited time, new customers will receive 50 percent off the regular package price.
As a result of being forced to close their doors, many small business owners are being profoundly impacted by the Coronavirus pandemic. Sales and marketing expert Greg Gootee has just launched a new web design firm that can help these individuals get back up and running online before all-out disaster strikes. In response to COVID-19, Badda Bing Website (BaddaBingWebsite.com) is poised to design and build a functioning website ultra-fast. The first 100 small business owners who sign up will enjoy a custom-built website for less than half Badda Bing's regular price.
According to an April 3, 2020 U.S. News and World Report headline (https://www.usnews.com/news/economy/articles/2020-04-03/small-businesses-face-collapse-as-government-launches-coronavirus-relief-program), "Virus Threatens Collapse of Small Businesses." Citing statistics from the U.S. Chamber of Commerce, the article goes on to point out, "A quarter of America's small businesses are two months or less from going out of business." Breaking down those statistics further, "An estimated 24% are only two months from going under if economic conditions don't improve, with more than 1 in 10 small businesses, or 11%, saying they have less than a month." Although "the government launched a small business loan program … delays are expected and owners don't have much time."
Greg Gootee of UCA Marketing Authority set up the new division of his company, Badda Bing Website, with time being of the essence for small business owners at its core. The new venture is solely focused on serving small business owners who need a website yesterday at an affordable price point. Combining Gootee's more than four decades of sales and marketing expertise with his team's knowledge, skills and abilities, Badda Bing Website assists small businesses in getting started in the online realm with the strongest possible foundation on which to build.
"Business owners who are suddenly faced with shuttering in the face of Coronavirus are no different from brand new business owners when it comes to an online presence," explains Gootee. "They typically run into one main obstacle that slows them down tremendously and may even mean the difference between surviving this pandemic or succumbing to it. That obstacle is technology and building a website for their business. Badda Bing Website can hurl that obstacle out of their way."
As part of a give-back program Gootee has implemented, the first 100 small businesses to sign up for a custom designed and built Badda Bing Website will receive the deeply discounted price of $497. That price includes website design, creation, content and implementation on the customer's hosting company's server. Optional add-on services include domain acquisition and registration, logo design and hosting.
For more information on how to take a non-operating bricks-and-mortar small business to a fully operational online business as quickly and easily as badda bing badda boom, visit Badda Bing Website online at BaddaBingWebsite.com.
###
About Greg Gootee
Greg Gootee is owner of UCA Marketing Authority. He has devoted his entire 40+-year career to sales and marketing. He has consulted, created, sold and managed marketing programs and strategies with over 450 national international corporations, including General Electric, L'Oreal and Staples. Gootee has also appeared on all the major television networks as a sales and marketing expert. BaddaBingWebsite.com is his latest venture. __title__ Badda Bin Website]