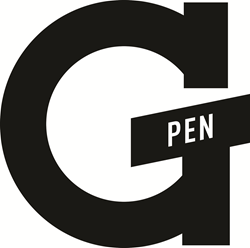 The G Pen Roam is the most highly engineered product that Grenco Science has produced. We are proud to present the new G Pen Roam in collaboration with B Real, which pairs perfectly with Dr Greenthumbs concentrates, delivering the best flavor experience possible
LOS ANGELES (PRWEB) February 16, 2021
Dedicated to advancing the cannabis experience through technology and design, Grenco Science, makers of G Pen, joined forces with B Real, the iconic Cypress Hill rapper, entrepreneur and founder of Dr. Greenthumb's, to introduce the Dr. Greenthumb's x G Pen Roam. The all-in-one portable vaporizer for concentrates, the G Pen Roam is redesigned with B Real's signature green and gold for discerning consumers. The Dr. Greenthumb's x G Pen Roam launches in stores nationwide as well as at all Dr. Greenthumb's retail locations and online at gpen.com/DGT.
"The G Pen Roam is the most highly engineered product that Grenco Science has produced. We are proud to present the new G Pen Roam in collaboration with B Real, which pairs perfectly with Dr Greenthumbs concentrates, delivering the best flavor experience possible for our consumers," said Chris Folkerts, CEO and Founder of Grenco Science.
Together, Dr. Greenthumb's and Grenco Science are invested in developing the best concentrates experience. The newest collaboration combines the smartest technology with intuitive design to offer the most powerful and enjoyable concentrates vaporizer.
"We make a wide range of products at Dr. Greenthumb's and always want to stock the shelves with the latest innovation. The new technology we have developed with Grenco Science enables us to provide a customizable experience for consumers to enjoy our concentrates at a superior level." - B Real, Founder of Dr. Greenthumb's
It features customizable temperature settings for a controlled experience. It heats up within seconds to 400° - 800°+F (204° - 427°+C). With a full quartz tank and its custom temperature settings melt all forms of concentrate material to perfection. Engineered for ultimate ease of use and portability, it features a spill-proof, self-contained borosilicate glass hydrotube; removable silicone mouthpiece that is enclosed in a durable aluminum housing; and is magnetically connected to the powerful, rechargeable 1300MAH lithium ion battery.
Dr. Greenthumb's x G Pen Roam Key Features:
Heats up within seconds
Stays on for 30 seconds
Temperature control between 400 º - 800 º F
Manual mode optional
Full LED display
Full quartz tank
Enclosed glass hydro-tube with removable silicone mouthpiece for easy cleaning
Rechargeable 1300 maH lithium-ion battery
Rapid charge with pass-through technology
Charges fully in approximately 2 hrs
Hemp Travel Case
Each Roam complete kit comes standard within a hemp travel case, with room for two concentrates jars and a pocket for accessories which include a micro USB to USB charging cable and loading tool.
Dr. Greenthumb's x G Pen Roam retails for $299 and will be available in store and online at gpen.com/DGT.
###
About Grenco Science
Grenco Science is a leader in engineering advanced cannabis vaporizers, setting new standards in aesthetics, portability, functionality, and user experience. Through proprietary research and development, as well as collaborations with influencers in music, art, and fashion, Grenco Science is transforming the cannabis experience and leading the movement to bring cannabis traditions to the 21st century. Visit gpen.com
About B Real & Dr Greenthumb Dispensary
Louis Mario Freese, better known by his stage name B Real, is an American rapper and actor. He is best known for being the lead rapper in the hip hop group Cypress Hill and one of two rappers in the rap rock supergroup Prophets of Rage. His live streaming site Breal.tv features live interactive programming over the Internet. He is the host of the "Dr. Greenthumb Podcast," "The Smoke Box," "Meditation," and "Bong Appetite's"' 2019 season. Summer of 2018 saw B Real open his first dispensary – Dr. Greenthumb - in Sylmar, CA. In 2019, B Real continued the expansion of his Dr. Greenthumb dispensaries with the opening of four additional locations including Downtown Los Angeles, CA; Eureka, CA; San Francisco, CA; Sacramento, CA. In 2020 he opened an on-site consumption lounge concept in Cathedral City, CA and is continuing to expand with new doors opening in the San Diego and Tulsa, OK markets.