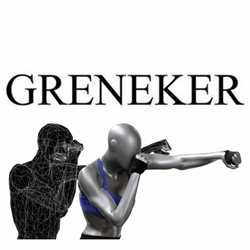 Mannequins are used to visually stimulate the customer, entice them to enter a store or department and educate them to the most current trends.
LOS ANGELES (PRWEB) July 27, 2018
Greneker introduces their new Rapid Development Approach™ for retail that allows for the creation of fast, cost efficient, and customized mannequins and displays. Preproduction that used to be done by hand and with clay and take up to six months is shortened to just a few weeks using modern digital 3d printing and prototyping techniques.
Today, the retail industry finds itself at a place of evolution. Driven by the age of digital connectivity, where 92% of 18-29 year olds own a cell phone and information circulates instantly, the retail industry is working to keep pace. But moving faster often means more expenses; rush charges, expedited deliveries and overtime. Not good when "brick and mortar" locations already face price and margin pressures from competing online sellers.
"The purpose of a mannequin is to entice, educate, and sell," explains David Naranjo, Greneker VP of Creative. "Mannequins are used to visually stimulate the customer, entice them to enter a store or department and educate them to the most current trends. They help sell merchandise and create a profit for the retailer."
Using its 8 decades of expertise in the display marketing industry Greneker has developed a unique system to enhance mannequin development and production with digital technologies. The Greneker Rapid Development Approach is based on a combination of modern 3D prototyping technology and in-house expertise that result in a better process and product. The rapid prototyping allows for better products, built faster, with the net savings in time and money passed onto the clients.
"It took 5 years to develop the methods and processes to control the technology so that it yields a mannequin that's as good or superior to the analog method of clay sculpting", says Greneker President, Steven Beckman. "One might think it's as simple as scanning a human model and 3D printing that data, but that doesn't create an effective mannequin, the technology expedites the process, but it's the expertise of the artisans that create the final product", explains Beckman.
How the Greneker Rapid Development Approach works:

Step 1. Concept. Clients and Greneker artists and engineers collaborate to visualize the mannequins in virtual stores to create the first digital 3D sculpture. Digital collaboration facilitates this process and reduces travel expenses. Time: 1 week.
Step 2. Refinement. Greneker sends 3D printed scale models to for review. Based on client comments a refined 3D sculpture is produced. Hand sculpting is eliminated and significant time is saved. Time: week 2.
Step 3. Validation. Client receives full size, fully working, 3D printed mannequins to dress, test and review at their location, eliminating the need to send a creative team to the production studio and allowing all the stakeholders to view the samples at the same time. This significantly expedites the approval process while reducing production expenses. Time: week 3
Step 4. Production. Greneker's digital connection simultaneously creates tooling for production in Los Angeles and China, allowing production to begin without delay. This saves time and transportation costs. Time: weeks 4-5
Drawing upon an 80+ year heritage, Greneker makes mannequins that draw audiences in; mannequins with attitude, charm and sophistication; mannequins that sell products and accessories. The Greneker Rapid Development Approach™ is an excellent example of how one company is harnessing the power of digital technology to benefit the retail industry.
About Greneker
Greneker Corporation traces its linage back to 1930s and Lillian Greneker who help create the modern mannequin. Since then Greneker mannequins and forms are found in leading retail stores around the globe, where they have been a visual merchandising staple for more than 8 decades. Fashions change over time, but Greneker mannequins have always worn the latest apparel of the world's legendary retail brands. Learn more at https://greneker.com/.
Contact
Greneker
Steven Beckman, 323-263-9000
becks(at)greneker.com