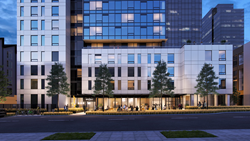 SEATTLE (PRWEB) August 31, 2020
Greystar, a global leader in the development, investment, and management of rental housing today announced that it has received Awards of Merit in the 2020 Gold Nugget Awards. Presented by the largest annual homebuilding trade show in the Western United States PCBC, Greystar earned Merit Awards for completed high-rise Ascent South Lake Union, honored in the "Best Multi-Family Housing Community" category, and Waverly, a new high-rise under development honored in the "Best On the Boards Multifamily" category. Commemorating preeminent projects from across the homebuilding industry, the Gold Nugget Awards celebrate companies that have raised the bar for innovative architecture, planning and construction concepts.
"Known as the premier building and development awards on the West Coast, PCBC represents the best of the best," said Aaron Keeler, Senior Director, Development at Greystar in the Pacific Northwest. "We are honored that Ascent South Lake Union and Waverly have been recognized among a premier selection of peers, and we are humbled to have received this distinction from such an esteemed panel of judges. Many thanks to our dedicated team who worked tirelessly on both of these projects, without whom these honors would not have been possible."
Serving as the first-ever residential high-rise in the booming hip tech neighborhood of South Lake Union, Ascent is a nautical haven, offering airy spaces with a modern exterior accented by stunning views of South Lake Union, the Space Needle and downtown Seattle. Interiors boast California Closets, Blomberg stainless steel appliances and Nest Thermostats. The Penthouses feature smart home technology like automatic window shades, light switches controlled by Amazon Alexa and secret TV screens embedded in the bathroom mirrors. The rooftop amenity deck, dubbed The Observatory, includes life-size Scrabble in the game room, a rooftop spa and pet park, fire pits and outdoor grills. Additional amenities include a 24-hour concierge, a dedicated co-working space and conference room and a 2,600-square-foot fitness center.
Located in the heart of Seattle, Waverly is under co-development by Greystar and Unity Church, with a new church structure designed by Olson Kundig slated for the site. To complement the striking church design, Waverly's exterior will reflect two color palettes rising tall up to its rooftop amenity deck. Interiors utilize exposed ceilings and luxurious pops of jewel tones to create a modern aesthetic. Waverly offers a ground floor community space with separate entrances for residents and leasing or deliveries, a co-working space, the only multifamily Futsal court in the U.S. and an upper floor space dedicated to "pop-up" bar and restaurant experiences in partnership with local businesses. Waverly is slated for completion in 2021.
"Gold Nugget Award winners reflect our industry's best, brightest and most innovative architects, planners and builder and developers," said Judging Chairman and Gold Nugget ceremonies administrator Lisa Parrish. "We applaud them all."
Now in its 57th year, The Gold Nugget Awards are the largest and most prestigious competition of its kind in the nation. The awards honor design and planning achievements in community and home design, green-built housing, site planning, commercial, retail, mixed-use development and specialty housing categories. Winners this year were chosen from 575 entries from around the world.
About Greystar
Greystar is a leading, fully integrated real estate company offering expertise in investment management, development, and management of rental housing properties globally. Headquartered in Charleston, South Carolina, Greystar manages and operates over an estimated $200 billion+ of real estate in nearly 200 markets globally including offices throughout the United States, United Kingdom, Europe, Latin America, and the Asia-Pacific region. Greystar is the largest operator of apartments in the United States, managing approximately 693,000 units/beds, and has a robust institutional investment management platform with approximately $35.5 billion of assets under management, including over $15 billion of assets under development. Greystar was founded by Bob Faith in 1993 with the intent to become a provider of world-class service in the rental residential real estate business. To learn more, visit http://www.greystar.com.
###
Media Contacts:
Murphy O'Brien
310-586-7173
greystar@murphyobrien.com