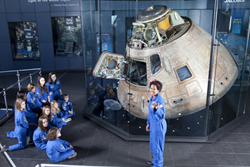 KNOXVILLE, Tenn. (PRWEB) September 04, 2018
In the Tennessee River Valley region, there are four seasons: Winter, spring, summer and football. Beginning in August until November, or slightly longer depending on a team's performance, fans travel across the region to cheer on their favorite collegiate teams. While football is at the centerpiece of the trip, there are additional activities that could turn the trip into a short getaway.
For those heading into the state of Alabama to Florence, Tuscaloosa or Auburn, include a pit stop in the Rocket City or the "hit recording capital of the world."
Huntsville is home to the largest space museum in the world, the U.S. Space & Rocket Center. Huntsville is known as the "Rocket City" because the metropolitan town is where rockets were developed that put men on the moon. Visitors can learn about Dr. Wernher von Braun and his team and NASA's current plans, and Huntsville's role in it, to travel to Mars with the world's most powerful rocket – the Space Launch System (SLS).
The out-of-this-world museum is home to more than 1,500 permanent artifacts and interactive exhibits surrounding Apollo, Mercury, and Space Shuttle spacecraft. Permanent collections include the first American satellite, Explorer I, original capsule trainers for the Mercury and Gemini programs, design modules for the International Space Station and next generation vehicles, such as Sierra Nevada's Dream Chaser.
The museum also features a full-dome IMAX theater and a 3-D video screen. For the thrill-seekers, there's Space Shot, where riders feel 4 Gs of force when launched 140 feet in the air in 2.5 seconds, or experience three times the force of gravity while spinning in the G-Force Accelerator.
Located in northwestern Alabama in Sheffield, Muscle Shoals Sound Studio was once a sought-after recording location for some of the world's best-known musical acts. The building fell into disrepair years ago after being used for other things, including an appliance store. Inspired by the 2013 documentary "Muscle Shoals," officials from Beats Electronics provided nearly $1 million to renovate the studio. The main studio has been revamped with a 1970s feel that includes bright colors, retro chairs and a metal ashtray and vintage recording equipment fills the production booth.
Built around 1946, the building is on the National Register of Historic Places. It opened as a studio in 1969 after a group of local musicians known as "The Swampers" (David Hood, Jimmy Johnson, Roger Hawkins and Barry Beckett) broke away from nearby FAME Recording Studios, another recording landmark. From 1969 to 1978, artists from all over the world traveled here to record, including Mick Jagger, Aretha Franklin, Wilson Pickett, Willie Nelson, Percy Sledge, Rod Stewart, Bob Seger and Lynyrd Skynyrd.
Today, the studio is owned and operated by the Muscle Shoals Music Foundation and is open for tours with plans to be a working recording facility in the coming months. Tour times are at 10:30 a.m., 11:30.a.m., 12:30.p.m., 1:30.p.m., 2:30.p.m. and 3:30 p.m.
Located nearby in Tuscumbia is the Alabama Music Hall of Fame. From rock and roll, to country, to blues and jazz, and gospel, the Alabama Music Hall of Fame recognizes artists who at one time called Alabama home or has significant musical ties to the state. See Elvis' first recording contract and the equipment on which he recorded. Peruse hundreds of pieces of personal memorabilia from Tommy Shaw of Styx, Emmylou Harris, Lionel Richie, The Commodores, Tammy Wynette, Sonny James, Percy Sledge, W.C. Handy, and many more. Additional highlights include a 12-foot jukebox playing pop, classical and opera tunes by Alabamians, superstar group Alabama's Southern Star tour bus, and a video tribute to the history of the Shoals contributions to the music industry. Before leaving, visitors are encouraged to make a recording in the studio to take home.
When cheering on the University of Tennessee Volunteers, plan an extra day for a ride on the Three Rivers Rambler Scenic Train. A 90-minute trip through the scenic views of the rural and historic area of Knoxville, the Three Rivers Rambler offer views of the Holston, French Broad and Tennessee Rivers intersecting. Tickets can be purchased over the phone in advance or the day of the train trip onboard. Check website for dates of running trains at http://www.threeriversrambler.com.
While in Knoxville, a local eatery featuring fresh, local ingredients worth checking out is The Tomato Head. The restaurant has a standing tradition of daily preparation of breads, dressings, cookies and desserts that marks the quality of the Tomato Head food. What began as a five-day lunch spot serving on paper plates with plastic forks has blossomed into a six-evening/seven day restaurant. With food as the focus, the Tomato Head also serves as a venue to musical acts, poetry readings, performance art and monthly shows that highlight local artists efforts.
Wine lovers should consider a visit to Blue Slip Winery, a boutique urban winery located in Knoxville's Old City. At Blue Slip Winery, artisan wines are made on-site from locally grown grapes and fruit. Guests can choose from over twenty wines to sample.
After an intense Vols football game, relax and unwind at the elegant Whitestone Country Inn, located approximately 40 minutes southwest of Knoxville near Kingston. The 600-acre property, situated along Watts Bar Lake, includes a luxurious AAA four diamond bed and breakfast, restaurant, day spa, wedding chapel and conference facilities.
Guests at the lakeside resort are treated to spectacular lake and mountain views from porches and private decks. For the outdoor enthusiasts, Whitestone has 7,000 feet of shoreline and 10 miles of hiking trails. Additional outdoor activities include tennis, canoes, kayaks, paddleboats, croquet, horseshoes, corn hole and shuffleboard. For those looking to relieve stress, restore healthier skin, soothe aching muscles and reduce tension, a full line of services in the Whitestone Spa is available. Services offered include facials, massage therapy, salt and sugar scrubs, and body mud wraps which all can be personalized to a guest's needs.
Overnight guests wake up to a hearty country breakfast in the restaurant at the Farmhouse. Dinner and lunch are available by reservation. Dinner is a five-course casually elegant affair featuring Southern regional cooking. The menu changes every month to accommodate fresh seasonal fruits and vegetables.
UT Chattanooga fans looking for a nontraditional lodging option should check out the Chattanooga Choo Choo. The Chattanooga Choo Choo and its Terminal Station is a 24-acre complex boasting three hotel buildings, five restaurants, a variety of retail shops, tranquil rose gardens, an educational antique trolley ride, model railroad museum and display and much more. Guests can overnight in beautifully restored authentic sleeper cars, once reserved for only the wealthiest of passengers during the railroad era.
For an upscale dining experience, St. John's Restaurant features fresh, locally sourced ingredients in creating its seasonal American fare. The restaurant itself has one of the finest wine cellars in the area, with over 400 bottles to choose from. Only open for dinner Monday through Saturday, St. John's Restaurant is located in the former St. John's Hotel building. Built as a hotel at the turn of the twentieth century during the bustle of the historic Chattanooga Choo Choo, the flat iron building later served as a brothel. After being condemned and nearly torn down in the 1990's local architect and preservationist Thomas Johnson purchased the building and began restoration immediately. In addition to St. John's Restaurant and St. John's Meeting Place, the St. John's building houses fine retail shops and luxury apartments on the floors above.
Planning a road trip to cheer on your favorite team is easy with the Tennessee River Valley Mapguide. The Tennessee River Valley offers a compelling story, captivating visitors with its little unknown facts, pristine, untouched areas and rich, authentic experiences. Save trip ideas and plan a trip easily with the Tennessee River Valley Geotourism MapGuide, an online guide of authentic places and adventures that have been recommended by locals.