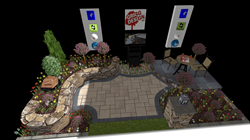 MANASSAS PARK, Va. (PRWEB) February 15, 2019
Northern Virginia's premier landscape builder Grigg Design is excited to return the Capital Remodel + Garden Show at the Dulles Expo Center Friday Feb 22nd 10 am to 9 pm, Saturday 23rd from 10 am to 9 pm, and Sunday Feb 24th from 10 am to 6 pm. You can easily find them in the same booth as last year #1147.
For the booth this year, they have created a beautiful backyard patio space to showcase hardscape and landscape capabilities. This beautifully designed 10- by 20-foot booth features a stacked stone wall, raised flagstone patio, concrete paver patio, veneered stone pillar, planting, and a custom stone fountain — all, or some of which, could be yours. It is the perfect oasis for all seasons.
Capital Remodel + Garden Show attendees will find innovative products, new ideas, and practical advice from hardscape and landscaping experts, home improvement and remodeling professionals; entertainment and electronics options galore; and so much more!
Here are a few tips for attendees:

Guests can sign up/schedule consultations as well as view our work (the booth) and slide show featuring different projects we've completed.
Buying tickets on the Capital Remodel + Garden Show website will save you money or you can save with Groupon https://www.groupon.com/deals/capital-remodel-garden-show-1
Free parking, re-entry is free with handstamp.
Meet designers Steve Grigg, and Sam Eashum at the Capital Remodel + Garden Show. They look forward to discussing your landscape design ideas and how they can make your vision a reality!
About Grigg Design, Inc.
Established in 1986, Grigg Design has been providing award winning designs and installations for over 33 years to clients in Fairfax, Arlington, Alexandria, Prince William County and the surrounding areas. Grigg Design is a full-service landscape design build firm; from conception to completion, their primary focus is providing clients with a finished, fully functional landscape, from design all the way through implementation. Hire the expert team at Grigg Design to install a single feature such as a garden installation, patio, walkway, retaining wall, etc.; or to manage a project with many facets. Grigg 'designs on the human scale', all while employing the best horticultural engineering practices. For more information, visit https://www.gdiva.com.