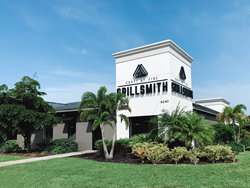 SARASOTA, Fla. (PRWEB) August 28, 2019
Grillsmith is a polished casual restaurant that creates modern American dishes using unique flavors from various cultures. The scratch-kitchen has a wide-range of fresh and locally sourced ingredients; from the Crunchy Ahi Tuna, to the rich Pork Chop Marsala, to the superior Port Wine Filet Mignon. "We take great pride in our food," Ross Hughes, Chef and Culinary Operations Manager at Grillsmith. "From the preparation of our 18 oz Black Aberdeen Angus Bone-in Ribeye to finely minced garlic and herbs- we know that the details of every dish are what make us special and that's what our guests love about us."
In addition to these American classics, Grillsmith also features an array of modern wines, whiskeys, and handcrafted cocktails. The signature Smoked Old Fashioned, is a new take on an old favorite. It carries a swirl of seared wood, reminiscent of a campfire.
"At Grillsmith, we strive to deliver an exceptional dining experience to each and every one of our guests," says, Hughes. "The moment you walk through the door, you'll know you're in a restaurant like no other." The intimate dining area is designed with a contemporary style; featuring stylish light fixtures, rustic wood wall paneling and a luxe marble bar counter top. It is filled with plush booths and solid wooden tables, creating a modern and inviting atmosphere.
The Sarasota Grillsmith will be open for lunch, dinner, and weekend brunch beginning August 26th, 2019 at 11am.
The entire Tampa Bay area is invited to attend the official grand opening event to celebrate the newest location on Friday, October 11th, 2019! The grand opening will include complimentary small bites and champagne, a ribbon-cutting hosted by the Sarasota Chamber of Commerce, and a chance to network with other Sarasota business owners and residents from 10:30am-11am. Later that evening, local radio host, Drew Thomas from WSRZ 107.9 will be hosting a "Prize Wheel" Party at the Sarasota Grillsmith from 6pm-8pm. Attendees can spin the wheel to win great Grillsmith prizes!
For more information please email marketing@grillsmith.com.
The Sarasota Grillsmith is located at 6240 S. Tamiami Trail, Sarasota, FL 34231, approximately two blocks north of Stickney Point Rd.