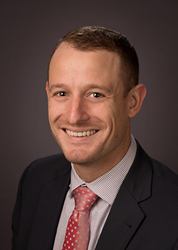 We are very pleased that William has joined our firm," said Gregory E. Grim, CEO, Grim, Biehn & Thatcher. "His knowledge and experience will serve our clients well."
PERKASIE, Pa. (PRWEB) January 07, 2019
Grim, Biehn & Thatcher of Perkasie, Pa., is pleased to welcome attorney William D. Oetinger to the firm. A resident of Hatboro, Pa., Oetinger received a bachelor's degree from Pennsylvania State University and a law degree from Temple University. His areas of practice include general litigation, criminal law, and municipal law.
"We are very pleased that William has joined our firm," said Gregory E. Grim, CEO, Grim, Biehn & Thatcher. "His knowledge and experience will serve our clients well."
Prior to joining Grim, Biehn & Thatcher, Oetinger worked as an assistant public defender in Bucks County, Pa., where he represented indigent defendants in all aspects of criminal proceedings.
About Grim, Biehn & Thatcher
Grim, Biehn & Thatcher has been providing trusted legal counsel, practical, commonsense advice and values-based business solutions to clients since the firm was founded by Webster Grim in 1895. The firm represents clients in the areas of Business, Commercial and Tax Law; Litigation; Family Law; Criminal Law; Landlord/Tenant Law; Municipal/Zoning Law; Personal Injury Law; Wills and Estates; and Real Estate Law. The firm prides itself on the following commitments it makes to its clients:
Responsibility – Recognizing that the firm is in a service business and that clients expect and deserve timeliness and responsiveness. This priority is embedded into the firm's culture and values.
Trust – Representing clients in a skillful and honest manner; taking ownership of every action in its dealings with clients and others with unyielding integrity.
Diligence – Providing the best service with confidence about what the firm does and always working hard to deliver quality service with the client's goals and best interests in mind for each legal matter.
Value – Striving to pool talents and resources to better serve clients and minimize unnecessary costs and expenses, thus providing increased value to its clients.
For more information about Grim, Biehn & Thatcher visit http://www.grimlaw.com.