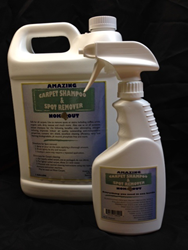 A clean carpet takes on a new meaning when the germs are eliminated along with the surface dirt.
Gaylord, MI (PRWEB) April 30, 2014
This time of year many families are in the midst of spring cleaning. While these efforts often center on counters and other surfaces, trouble could still be brewing underfoot. Studies reveal that that carpets and rugs in some homes have entire E. coli, salmonella, staphylococcus, and other bacteria living in them. Germs and the residues left behind by Winter activities make the spring a perfect time to thoroughly clean carpet fibers in homes and offices.
"Rugs are botanical and zoological parks," says Dr. Philip Tierno, Jr. in his book The Secret Life of Germs. He says hundreds of thousands of different types of species live there. Tierno's research indicates that the average household carpet probably contains about 200,000 bacteria per square inch, making it 4,000 times dirtier than your toilet seat. To make things worse, he says walking or rolling around on carpets disrupts the bacteria, bringing some closer to the surface.
The cleaning experts at Grime Busters say now is the time to take action. By the time spring arrives, carpets have endured harsh winter residue such as salt, mud, and a host of bacteria that has been tracked into the home. Not only are these substances destructive to carpet fibers, they also spread germs throughout the home environment. Carpet cleaning machines are helpful, but they need the proper carpet cleaning formula to disinfect.
Grime Busters recommends carpet shampoo and spot remover. Amazing! NOK OUT, for example, is an all-purpose cleaner that can be used to remove spots or stains including coffee, soil, and other household messes. It also eliminates odors, disinfects, improves indoor air quality, reduces allergens and prevents dirt redeposit.
Amazing NOK OUT's carpet shampoo works by breaking down the dirt and germs on the carpet fibers. The active ingredient, chlorine dioxide, is able to kill germs while removing grime and odors. It is also a great stain remover and can be used in the interim between carpet shampoos when an accidental spill occurs. A quick spray of Amazing! NOK OUT and a brush will remove the stain, dirt and related germs. The carpet shampoo is also phosphate free, biodegradable, and pH neutral
About Grime Busters:
Created in 2007, Grime Busters is a distributor of Amazing! NOK OUT – a hospital grade, broad spectrum disinfectant and deodorizer. Grime Busters products remove malicious germs by the process of oxidation. To find out what Grime Busters can do for you, visit nokout.us.