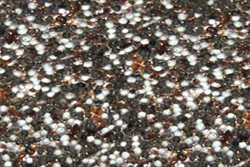 Grip Rock mats are very effective at preventing slips and falls even on wet and greasy areas.
Cleveland, Ohio (PRWEB) May 29, 2014
The new Grip Rock Slip-resistant Floor Mats feature a unique surface of round textured ceramic beads and crushed garnet to minimize slipping while facilitating easy cleaning. The Grip Rock safety mat is designed to be slip-resistant in wet, hazardous areas including walk-in freezers, wet and slippery ramps, and stairs indoors or outdoors.
The aggressive slip-resistant surface uses a flexible polyurethane backing to restrict creeping, with an inner fiberglass layer for strength. The Grip Rock mats have a low profile that's only 1/8" thick, reducing the trip hazard and making it easy for rolling carts. The mats resist fungal and bacterial growth, and maintain a high degree of slip resistance even where water, oil or grease may be spilled.
According to Martinson-Nicholls president Dan Ruminski, "Grip Rock mats are very effective at preventing slips and falls even on wet and greasy areas."
Grip Rock mats are intended for a variety of uses, including commercial kitchens, washing areas, walk-in freezers, beverage stations, wet ramps and walkways, hospitals, and restaurants. They come in a variety of standards sizes ranging from 3' x 4' to 3' x 20' or 3' x 40' rolls. Martinson-Nicholls can cut them to any length required.
They are surprisingly light, but will last for years of harsh service as long as maintained. Grip Rock can be cleaned with water and a mild detergent and rinsed, steam cleaned, medium pressure washing, or even passing them through a large dishwasher.
About Martinson-Nicholls
Martinson-Nicholls, has established itself as a leader in custom anti-slip tape, floor mats, and eco-friendly products for more than 25 years.
Martinson-Nicholls provides the customer with the exact size matting needed--small, large, standard, nonstandard, special shapes and logos. Custom installations are also a specialty of the company.
Anti-slip safety tapes and treads are available in various sizes and textures from hand cut or die cut pieces to full rolls and special shapes. For more information, please visit http://www.floormat.com.