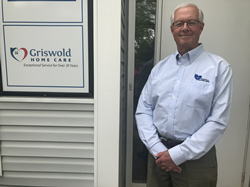 "We're very pleased with how many of our franchisees have stepped up to make donations in their local communities," said Griswold Home Care CEO Michael Slupecki. "I know they care deeply about their neighbors and the well-being of vulnerable seniors at home."
PLYMOUTH MEETING, Pa. (PRWEB) July 08, 2020
Brand new, insulated meal delivery bags. Funds for a township's Community Assistance Network to help isolated seniors with meals. And, a rural make shift drive-up food bank.
These are three of the 71 Griswold Gives COVID-19 Emergency Relief Program grants, for food programs helping low income elderly adults, that were recently made on behalf of Griswold Home Care franchise directors in their local communities across the United States. Additional funding is available and more Griswold Gives emergency relief grants are expected to be made this summer.
"We're very pleased with how many of our franchisees have stepped up to make donations in their local communities," said Griswold Home Care CEO Michael Slupecki. "I know they care deeply about their neighbors and the well-being of vulnerable seniors at home."
The Jean Griswold Foundation, a nonprofit named for the founder of Griswold Home Care, activated its annual Griswold Gives grant program early this year to assist local nonprofits during the COVID-19 pandemic.
The COVID-19 Emergency Relief Grant Program is designed to support nonprofit hunger relief programs for seniors in all of Griswold Home Care's markets. Included are food banks, meal delivery programs and senior centers, among many other community and charitable organizations.
The Jean Griswold Foundation is a private charity established by Griswold Home Care to further the company's belief that care for the elderly and disabled should be available to all. Every dollar donated is used to further its mission to support programs and services that allow seniors to age in place. In 2019, the Jean Griswold Foundation helped fund a special research project on senior isolation conducted by Meals on Wheels America.
About Griswold Home Care
With 200 locations in 30 states, Griswold Home Care is one of the country's top home care companies. Griswold provides non-medical personal care services at home allowing adults to maintain quality of life despite advanced age or onset of illness. For more information visit http://www.griswoldhomecare.com or call 215.402.0200.