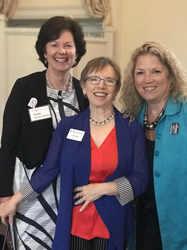 NEW HAVEN, Conn. (PRWEB) May 01, 2020
Griswold Home Care of New Haven and Middlesex County announced that it will donate $35,000 to local nonprofits as a matching sponsor of the 11th annual online giving event, The Great Give, taking place May 5-6. The funds raised will be used to support nonprofits facing a lack of funding, resources, and volunteers due to the COVID-19 pandemic.
Created in 2010 by The Community Foundation for Greater New Haven, The Great Give is a 36-hour online fundraiser that raises money for nonprofits serving Greater New Haven. As a matching sponsor of this year's event, Griswold Home Care has committed to matching $35,000 in donations to 12 senior-focused organizations that meet the needs of the community's elderly residents, including:

Agency on Aging of South Central Connecticut
Christian Community Action
Davenport Residence
Gaylord Hospital
Griffin Hospital
Guilford Interfaith Ministries
HomeHaven
Mary Wade Home
Milford Council on Aging
Orchard House
Partnerships Center for Adult Day Care
The Connecticut Hospice
"During such uncertain times, it's more important than ever to lend a hand to local nonprofits serving the growing number of people in need – especially seniors," said Lesley Mills, director of Griswold Home Care of New Haven and Middlesex County. "We are proud to participate in this inspirational event and give back to the organizations helping our neighbors live happy, healthy lives at home."
For more than 25 years, Griswold Home Care has provided a wide variety of non-medical home care services to residents throughout New Haven and Middlesex counties, including personal care, homemaking, and companionship. The home care company has earned recognition from several renowned organizations, including the New Haven Chamber of Commerce's annual Small Business Award and a nomination to represent Connecticut during the national Small Business Association's 2016 Small Business Awards from former Attorney General Richard Blumenthal.
To participate in and learn more about The Great Give, please visit https://www.thegreatgive.org/.
To learn more about Griswold Home Care, please call (203) 745-2126 or visit https://www.griswoldhomecare.com/new-haven-middlesex-new-london/.
About Griswold Home Care
With 200 locations in 30 states, Griswold Home Care is one of the country's top home care companies. Griswold provides non-medical personal care services at home allowing adults to maintain quality of life despite advanced age or onset of illness. For more information, visit http://www.griswoldhomecare.com or call 215.402.0200.