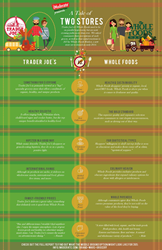 365 is Whole Foods chance to pivot from its elitist image and reach a new segment of shoppers that's paying closer attention to their waistlines, but can't afford premium prices
Denver, CO (PRWEB) October 28, 2015
A new qualitative research study by iModerate, a leading consumer insights firm, found that people have vastly different views of the type of shopper who frequents Trader Joe's vs. Whole Foods, as well as of the grocery brands themselves. Consumers tend to view Trader Joe's as a hip, quirky store that attracts a down-to-earth crowd, while Whole Foods is seen as a pricier counterpart for those into organic and clean eating.
iModerate's study asked over 1,000 consumers to characterize people who shop at the two chains, and what sets each brand apart. It also questioned the potential of 365 By Whole Foods Market, a new lower-cost grocery concept that has the potential to help Whole Foods improve its public perception and broaden its customer base, yet could backfire if it fails to deliver on its price and product promises.
Trader Joe's For Quirky Tree-Huggers, Whole Foods' For Elite and Health-Minded
Although Trader Joe's and Whole Foods' shoppers were described in similar ways on a surface level, with terms such as hipsters, organic, health-conscious, granola and educated, the underlying meanings reveal very different personas.
The types of people who shop at Trader Joe's, primarily perceived as health-conscious bargain hunters, are described as wannabe flower-children who prefer to eat organic, have a California-esque granola vibe, are open minded and tend to be white in the mid-to-upper class. They were called out as, "Granola eating, earth loving, with extra money to spend."
By comparison, the Whole Foods crowd, also driven by health-consciousness, is described as being comprised of wealthy hipsters who prefer GMO-free and local foods, are well educated and border on annoying with their liberal, granola-eating ways. They're described as, "Rich and sometimes a hippy, but still rich."
"Even though patrons of both stores were categorized broadly using many of the same terms, our research revealed drastic nuances," said iModerate's CMO Adam Rossow. "Whereas Trader Joe's shoppers are lovingly viewed as savvy foodies who balance their preferences for healthy eating with their budgets, Whole Foods' shoppers are painted in a much more negative light. Their willingness to shell out top dollar makes them seem elitist. The question is whether the brand image is being reflected onto them or vice versa."
Whole Foods Wins on Freshness, Loses on Value
Trader Joe's sets itself apart as an oasis for exotic products that can't be found elsewhere, including wholesome snacks, international foods and gluten-free items. And while the top unique benefit identified (28%) was the healthy and organic food, many go on to profess their love for its prepackaged goods, frozen food, and cheap-yet-palatable wine – items that might not be considered the most nutritious.
"It was surprising to see consumers align benefits such as 'healthy' and 'organic' with Trader Joe's, since its branding is explicitly focused on high value, while Whole Foods' highlights natural and organic products in its brand position," said Rossow.
iModerate's research shows Whole Foods is considered above par for freshness and quality, and shoppers are drawn there for health and environmental reasons. Consumers see Whole Foods as a better option for ethically sourced food that is non-GMO and free of pesticides and additives, including grass-fed meats and local produce. It also offers obscure ingredients that expand culinary options for those with allergies or intolerances.
It's no surprise that price emerged as a main differentiator between the two brands. Trader Joe's was lauded for its family-friendly price point, while Whole Foods was consistently criticized for being unaffordable as a primary grocery store.
Can 365 Reinvigorate the Whole Foods Brand?
Whole Foods is taking aim at Trader Joe's, as well as big-box stores such as Walmart and Costco, with its 365 concept that hopes to appeal to budget-minded millennials, but will it be well received when it launches in early 2016? iModerate found that consumers are excited at the prospect, but with a caveat – they expect Whole Foods to deliver its renowned quality at traditional grocery store prices. The top unique benefit identified (36%) was the ability for more consumers to take advantage of healthy foods thanks to the lower price-point.
"365 is Whole Foods chance to pivot from its elitist image and reach a new segment of shoppers that's paying closer attention to their waistlines, but can't afford premium prices," said Rossow. "Giving this population access to healthier food could create immense brand loyalty for 365 and carry over to the larger Whole Foods brand. That said, if 365 turns out to be an equally expensive or lesser-quality version of Whole Foods, the concept will backfire entirely."
More information on the study findings can be accessed here: http://info.imoderate.com/brand-wars-grocery
Methodology
The qualitative study was conducted in September 2015. iModerate crafted open-ended questions about each brand and posed them to more than 1,000 consumers who ranged in age from 18 to 65. Questions were formulated using ThoughtPath, iModerate's proprietary framework that's rooted in elements of cognitive psychology. iModerate's analysts eliminated unintelligible answers and loaded the feedback into Luminoso, a text analytics tool that formed broad themes based on the connections within the data set. Analysts then used those as a basis to construct more nuanced themes, based on clarity and intensity of language. Percentages reported are based on the share that each theme represents within the data set for each question, and are calculated after the irrelevant data was omitted.
About iModerate
iModerate is a consumer insights firm that helps clients become fluent in their audiences through a deeper understanding of their motivations, needs and language. Founded in 2004 and based in Denver, Colo., iModerate is known for pioneering and championing the online one-on-one. Guided by a proprietary cognitive framework, ThoughtPath, the firm's conversations, analytics and longitudinal research gives clients a clear vision, actionable insights, and direct return on investment. Follow iModerate experts to hear insights on the blog, Twitter and LinkedIn.