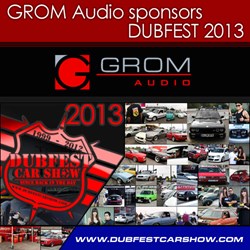 We believe that GROM products bring an additional value and excitement to European car owners.
Belmont, CA (PRWEB) August 21, 2013
Running since 1999, the DUBFEST Car Show is one of the longest running European car events in California—offering car judging and awards, drag racing, music and more. The event will feature some of top aftermarket car companies, including GROM Audio, to showcase the latest innovations in the car industry.
GROM Audio is proud to be a part of 2013 DUBFEST Car Show. The Bay Area company will sponsor this year trophy, and host a booth. There will be live demonstrations of GROM's aftermarket car kits – Bluetooth, Android, iPod/iPhone, USB and Portable Music Player integrations to factory car stereos – for a variety of European car makers. "We are looking forward to the DUBFEST 2013. We believe that GROM bring an additional value and excitement to European cars owners," company spokesperson.
Attendees will be able to participate in these live demos with their Smartphones or multimedia devices, showing the vast capabilities of GROM Audio products. GROM will also be featuring Fiber-optic supported car kits (GROM-MST3 PLUS), which are common in many European car makes including BMW, Mercedes, Audi and Volvo.
GROM Audio's European car kits integrate with factory stereos and add Bluetooth streaming and in-car hands-free communication, Android phone integration, iPod/iPhone/iPad car connection, and USB ports. Upon installation, users have the ability to connect many mobile device to their car stereo through the wires provided or wireless via Bluetooth. These easy-to-install car kits are designed to provide endless integration possibilities, convenience of phone car connection, and safety of car hands free communication.
GROM Bluetooth car kits not only reduce noise and eliminate echo, but also produce high-quality sound for music streaming and phone calls. Additionally, GROM Audio's European car kits allow unique Android car integration, giving Android phone users the ability to connect and integrate their phones to the cars.
GROM continues to design and manufacture aftermarket car audio kits for different car makes/models and is proud to introduce support for Volvo XC90 stereos from 2007 up to 2013. Volvo XC90 drivers will not only benefit from the safety of Bluetooth hands-free calling, but will also have the ability to charge, play and control their devices (both Apple and Android) through their steering wheel or stereo buttons. Most Android phones are compatible, including Samsung Galaxy, HTC, Google Nexus, and others.
To see a demo of this integration, visit GROM's YouTube Channel at http://www.youtube.com/watch?v=EIOn9Bu2CZo&feature=youtu.be/.
With support for over 30 car makes, GROM Audio provides full audio integration; connecting Bluetooth, Smartphones and multimedia devices to factory car stereos.