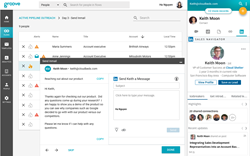 Our mission is to equip sales teams with the tools they need to work efficiently and drive results. Building on our integration with LinkedIn Sales Navigator is an exciting step in that direction
SAN FRANCISCO (PRWEB) October 08, 2018
Today, Groove.co, the leading sales engagement software, announced a new integration with LinkedIn Sales Navigator, a powerful tool for understanding target audiences and building relationships. The new integration will empower Groove customers to send LinkedIn Sales Navigator connection requests and InMail messages directly from Groove, further streamlining their workflows and freeing up valuable time.
Groove users can create multi-step campaigns that include personalized emails, phone conversations, and reminders through a product known as Groove Flow. Now they can add steps in their Flow campaigns to send LinkedIn Sales Navigator connection requests and InMail messages.
"Account based sales requires teams to go deeper and build meaningful relationships over a longer period of time. That requires strategic communication through multiple channels," said Chris Rothstein, CEO and Co-Founder of Groove. "This integration allows reps to execute more sophisticated communication without the hassle of switching between tools."
With this integration, Groove users will be able to:
1. Bring all sales engagement — phone, email, LinkedIn Sales Navigator — into one place
2. Save time by sending InMail and LinkedIn Sales Navigator connection requests directly within Groove, without switching browser tabs
3. Use message templates they've already saved in Groove as a starting point for InMail
4. Access a prospect's LinkedIn Sales Navigator profile from the Groove Omnibar so they can customize their messages without leaving Groove
In May, Groove announced the first phase of its integration with LinkedIn Sales Navigator when the company joined the Sales Navigator Application Platform program. Groove also made LinkedIn Sales Navigator data available side by side with Salesforce data, directly in the Groove platform. Now, LinkedIn Sales Navigator's communication tools are available in the platform, making Groove an even more powerful central hub for sales engagement activity.
"Our mission is to equip sales teams with the tools they need to work efficiently and drive results. Building on our integration with LinkedIn Sales Navigator is an exciting step in that direction," said Rothstein.
About Groove
Groove is the leading sales engagement platform that helps managers, reps, and operations sell smarter and increase revenue by as much as 25%. It empowers the entire sales organization to plan and execute personalized outreach at scale with targeted campaigns, engage top accounts with smart account based sales features, and drive productivity using actionable analytics. For more information about Groove, visit http://www.groove.co.