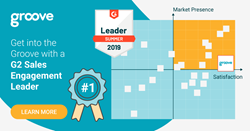 Groove earned its position as a Leader in G2's Summer 2019 Grid® Report for Sales Engagement based on receiving a high customer Satisfaction score and having a large Market Presence
SAN FRANCISCO (PRWEB) July 22, 2019
Groove.co has been identified as the top provider of Sales Engagement Software based on high levels of customer satisfaction and likeliness to recommend ratings from verified users on G2 Crowd, the world's leading business solutions review website. Furthermore, Groove.co also outperforms competitors in all eight G2 satisfaction ratings for Sales Engagement category.
"Groove earned its position as a Leader in G2's Summer 2019 Grid® Report for Sales Engagement based on receiving a high customer Satisfaction score and having a large Market Presence," said Kara Kennedy, Market Research Director at G2. "Groove received the highest Satisfaction score among Sales Engagement products and its users rated it above-average for all features, including Email Tracking/Automation and Task Management. Additionally, Groove was ranked #1 in G2's Relationship Index for Sales Engagement for Summer 2019, highlighting the company's commitment to providing quality support and building strong relationships with its customers."
The Summer 2019 Report leverages G2 Crowd's proprietary algorithm, which calculates global rankings based on overall customer satisfaction, ease of doing business with, market presence, likelihood to be recommended and number of reviews.
Groove offers the true all-in-one sales engagement software to over 40,000 users at some of the world's fastest growing companies, including Google, Prezi, Slack and HotSchedules. It provides the power for salespeople and customer specialists to foster impactful relationships with prospects and customers. Groove seamlessly integrates with CRM to better target top accounts. Groove allows users to work directly from your email and compile analytics on open, reply and click rates. Users can also create multi-step drip campaigns to continuously advance their prospect and customer communication.
A sample of recent review:
1. "Groove is an amazing sales engagement tool. Groove sits directly on top of Salesforce and is made for Gmail users, so the bi-directional sync makes completing tasks and creating outreach flows seamless. Groove is already paying off and helping me to schedule meetings."
2. "10x Productivity Boost. Up front, Groove was brought in to solve a workflow management issue. After working with the team we discovered many different avenues to create efficiency, all of which contributed to a dramatic increase in productivity."
3. "Literally, anything you can think to automate in a sales role, Groove can do it. We have this idea that things can either be automated or they can be personal. The great thing about Groove is that it can be both. We are doing highly personalized outreach at a large scale."
4. "The simplicity of the product is great. All of the functionality that is needed in a sales efficiency platform is available and easy for the team to find. Reporting functionality for managers and admins is easy to use and comes out of the box. That being said, on the rare occasion that we do have questions, [Groove's] support and customer success teams are very responsive and easy to work with."
Learn more about how Groove stacks up against the competition in G2 Crowd's Reports for Sales Engagement Software.
About G2.com (formerly G2 Crowd)
Headquartered in Chicago, G2.com is revolutionizing the way businesses discover, buy and manage software and services. More than three million users per month rely on G2 to help them find and buy the best software for their businesses. The platform has more than 800,000 reviews, and $100M in total funding invested by IVP, Accel Partners, LinkedIn, Emergence Capital, Pritzker Group, Chicago Ventures, Hyde Park Ventures, industry leaders and founders. G2's most recent funding, a $55M Series C, was announced in October, closely followed by the company's acquisitions of Siftery and Advocately.
About Groove.co
Groove.co is the leading sales engagement platform that helps managers, reps, and operations sell smarter and increase revenue by as much as 25%. It empowers the entire sales organization to plan and execute personalized outreach at scale with targeted campaigns, engage top accounts with smart account based sales features, and drive productivity using actionable analytics. For more information about Groove, visit http://www.groove.co.
G2 Satisfaction Metrics: In G2's Summer Satisfaction Ratings for Sales Engagement, Groove outperforms all competitors across eight satisfaction metrics
1. Likely to Recommend: 94%
2. Product Going in Right Direction: 95%
3. Meets Requirements: 93%
4. Ease of Admin: 92%
5. Ease of Doing Business: 97%
6. Quality of Support: 94%
7. Ease of Setup: 92%
8. Ease of Use: 92%
Grid Results Summary: In G2's Summer Grid Reports Groove.co was featured in 16 Grid Reports across 7 categories and earned 3 top - 3 category placements
Grid® Report for Sales Engagement | Summer 2019: #5
Enterprise Grid® Report for Email Tracking | Summer 2019: #3
Momentum Grid® Report for Outbound Call Tracking | Summer 2019: #3