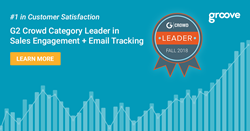 It's getting harder every day for reps to stand out from the noise and connect with their prospects. Having the right tools in place can make all the difference in perfectly timing your follow-up effort
SAN FRANCISCO (PRWEB) October 22, 2018
Groove has been identified as the top provider of Sales Engagement Software and Email Tracking Software based on high levels of customer satisfaction and likeliness to recommend ratings from verified users on G2 Crowd, the world's leading business solutions review website.
"It's getting harder every day for reps to stand out from the noise and connect with their prospects," said Chris Rothstein, CEO and Co-Founder of Groove. "Having the right tools in place can make all the difference in perfectly timing your follow-up effort. I'm honored and humbled that Groove received such high rankings from our customers."
Groove achieved the #1 ranking on the Sales Engagement Software Report and Email Tracking Grid Report by earning positive reviews from verified users compared to similar products.
"Rankings on G2 Crowd reports are based on data provided to us by real users," said Michael Fauscette, chief research officer, G2 Crowd. "We are excited to share the achievements of the products ranked on our site because they represent the voice of the user and offer terrific insights to potential buyers around the world."
Groove offers sophisticated email tracking to over 40,000 users at some of the world's fastest growing companies, including Google, Prezi, Slack and HotSchedules. With Groove, users can see when and where an email is opened, which links were clicked, and whether attachments were downloaded by the recipient. Users can also set reminders to follow up on an email, categorize emails, and see engagement analytics for individual contacts as well as at the account level. In addition, users can create multi-step campaigns, seamlessly integrate with their CRM, and better target their top accounts.
About G2 Crowd
G2 Crowd, the world's leading business solution review platform, leverages more than 381,000 user reviews to drive better purchasing decisions. Business professionals, buyers, investors, and analysts use the site to compare and select the best software and services based on peer reviews and synthesized social data. Every month, more than one million people visit G2 Crowd's site to gain unique insights.
About Groove
Groove is the leading sales engagement platform that helps managers, reps, and operations sell smarter and increase revenue by as much as 25%. It empowers the entire sales organization to plan and execute personalized outreach at scale with targeted campaigns, engage top accounts with smart account based sales features, and drive productivity using actionable analytics. For more information about Groove, visit http://www.groove.co.