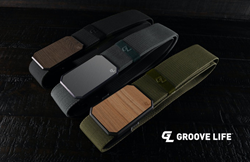 "I've hated wearing belts my whole life. They were uncomfortable and never fit right. I wanted a belt that was flexible, yet durable and low profile," Goodwin says. "We knew if we could make a belt more comfortable and at the same time easy to buckle, we'd knock it out of the park."
NASHVILLE, Tenn. (PRWEB) April 30, 2020
It's hard to imagine improvements in a belt that would create a buzz among the already crowded men's accessory market, but Groove Life lived up to their legacy, fully funding their Kickstarter campaign in less than 4 hours. On April 27th, Groove Life Inc, the company that revolutionized the silicone ring, launched the most innovative belt in the outdoor and active lifestyle market.
Like the Groove Ring, the Groove Belt™ is ultra-comfortable and extremely durable. The Groove Belt™ rarely needs adjustment, and is the first belt to use Neodymium Magnets. A belt may seem simple but through some innovation, Groove utilizes clever design to remove all the frustrations of other belts.
While most belts include a complicated adjustment process, excess slack, or show wear and tear after just a few uses, the Groove Belt™ is durable, usable with just one snap, and looks awesome!
Peter Goodwin, owner and founder of Groove Life, loves to innovate products that fix existing problems. When he thought about traditional belts, the negatives were endless. "I've hated wearing belts my whole life. They were uncomfortable and never fit right. I wanted a belt that was flexible, yet durable and low profile," Goodwin says. "We knew if we could make a belt more comfortable and at the same time easy to buckle, we'd knock it out of the park."
Groove Life has done just that. The belt combines maximum comfort with the best style. Neodymium magnets hold the buckle in perfect place with a satisfying snap. While most belts are stiff and uncomfortable, the Groove Belt™ provides the perfect blend of durable, stiff webbing and stretch for comfort while holding its shape. It is fold-proof, requires a one-time adjustment, and includes a coated, A380 aluminum alloy buckle.
In addition to these super innovative features, Groove Life will back this product with an iron-clad 94-Year No BS warranty. If the belt breaks, they will replace it every time. For life!
The Groove Belt™ is the perfect belt for adventurers, athletes, or simply those who appreciate comfort. The average man adjusts a belt 5+ times per day… why not make the process as simple as possible? Belts don't have to be stiff, uncomfortable, and difficult to use. The Groove Belt™ is ready to stand up to every other belt on the market.
Back the Groove Belt on Kickstarter right now and explore other products at Groove Life.
About
Groove Life launched in 2016 with the release of their flagship product, the Groove Ring, through a successful Kickstarter campaign. Founder Peter Goodwin wanted to wear a ring that showed his commitment to his family while meeting the demands of his work as an Alaskan guide and wilderness lodge owner. His creation not only offers durability and functionality, but rugged good looks, as well. The company has since moved its headquarters to Tennessee and now offers other products including the first truly breathable watch band.