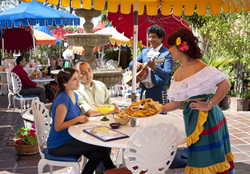 With so many great food and drink specials as well as live entertainment and dancing, everyone can celebrate 2019's Cinco de Mayo with Casa de Pico at the Grossmont Center
SAN DIEGO (PRWEB) April 23, 2019
Casa de Pico, an authentic Mexican restaurant owned by Diane Powers, will bring cultural festivities and celebrations to the Grossmont Center again this year. Cinco de Mayo commemorates the Battle of Puebla, a conflict in which Mexican troops fought off invading French military forces in 1862 and boosted the nation's morale during a particularly fraught period of time in Mexican history.
Casa de Pico will celebrate 2019's Cinco de Mayo with Mexican cuisine and margaritas, as well as Mariachis, troubadours and ballet folklorico dancers. Every hour, the restaurant will offer drink specials on margaritas, in addition to all-day drink specials and featured food items, like tacos and enchiladas. The celebration will take place on Thursday, May 5 and continue through Saturday, May 7. Revelers can also enjoy all of Casa de Pico's menu, which features many culturally authentic recipes and dishes.
The restaurant joined the Grossmont Center in 2005 and gives patrons a hacienda-style atmosphere, top-notch architecture, and gorgeous landscaping while providing fresh and delicious food. 2019 marks the 14th year Casa de Pico and the Grossmont Center will celebrate Cinco de Mayo together.
"With so many great food and drink specials as well as live entertainment and dancing, everyone can celebrate 2019's Cinco de Mayo with Casa de Pico at the Grossmont Center," said Trevor Moore, Director Of Public Relations And Events. "Thursday through Sunday, May 2–5, we'll have live entertainment, promotional giveaways, delicious food and drink specials, and a fiesta to remember."
Some of the unique specials include the festive "Cincorita" margarita—strawberry flavor, Midori (melon flavored liqueur), and traditional (lime), in layers of green, white and red that honor the Mexican flag; and Enchiladas Banderas—chicken, cheese and beef enchiladas served with three different sauces, verde (green), blanca (white), and roja (red), which also showcase the Mexican flag. Additionally, Casa de Pico will offer bucket-of-beer specials, special prices on tequila shots, and a keepsake Cinco de Mayo pint glass.
Casa de Pico has been awarded "Best Mexican Cuisine" and "Best Margarita" by local news organizations in San Diego. With its prime location in the Grossmont Center, the restaurant has been able to offer unique experiences and offers an excellent patio space for outside diners. This year, the Cinco de Mayo celebration will provide partygoers with a unique cultural experience and tasty, delicious food and drinks.
To learn more about the celebration and Casa de Pico, please visit: https://www.grossmontcenter.com/store-directory-search/casa-de-pico/.
To learn more about Grossmont Center, visit http://www.grossmontcenter.com.
About Grossmont Center
Grossmont Center is an outdoor shopping center in San Diego located at 5500 Grossmont Center Drive, La Mesa, CA 91942. Grossmont Center is more than just a mall. It's an experience. With its outdoor setting, local, and national retail partners, restaurants, and year-round community events, Grossmont Center is where friendships are made, family bonds are strengthened, and memories are created. The Center is home to more than 100 unique stores, half of which are locally owned, 20 restaurants and a movie theater. Grossmont Center occupies 1 million square feet and is sure to have something in store for everyone! For more information, including hours of operation, visit http://www.grossmontcenter.com.