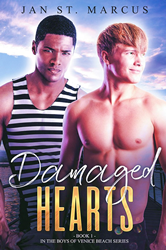 "It had me crying along with the characters. It blows the doors off of almost all gay fiction I've read on Amazon." – Kevin B., 5-Star Amazon reviewer
NEW YORK (PRWEB) April 29, 2020
Being a young guy in Venice Beach can be pretty cool. This is the first book in a series of novels about young men living, loving, and just being in Venice Beach, California.
"I was so caught up with the characters that there were several moments when I found myself just bursting into tears right along with the characters. As many books as I've read before, I can't recall that ever happening before. Unbelievably powerful." – Mark B., 5-Star Amazon reviewer
A gentle relationship emerges from a violent encounter in the novel "Damaged Hearts: Book 1 in the Boys of Venice Beach Series."
When 19-year-old military veteran Brandon Hawkins is attacked on Venice Beach by a gang of frat boys out for fun, he is saved by 25-year-old MichaelAngelo Curtis, a passerby.
MichaelAngelo ends up breaking the arm of the ringleader beating up Brando. After recording the incident on his phone for police, his video goes viral and the frat boys end up paying a big price for their vicious prank.
Inviting the homeless Brandon to his place for food and a shower, MichaelAngelo finds himself drawn to the younger man. Neither of them is gay, but before long, their friendship morphs into something like love, taking them both by surprise. One man is white and the other black. Their unexpected encounter forges a strong bond between the lonely men as they finally acknowledge their feelings.
Warning: The ringleader of the frat boys is plotting revenge on those he blames for the destruction of his life.
Second Warning: Beware of explicit language and sexual situations.
"It had me crying along with the characters. It blows the doors off of almost all gay fiction I've read on Amazon." – Kevin B., 5-Star Amazon reviewer
Watch the video book trailer and listen to an audiobook sample at: https://janstmarcus.com/
About the Author: Jan St. Marcus grew up in the suburbs of Washington, D.C., and has traveled all over the world during his military service. A professional photographer, he has lived in many places, and is proud to call the D.C. area home once again. This is the author's debut novel, which was inspired by his encounter with a young, homeless veteran in the suburbs of Washington, D.C. "He earned a Bronze Star in the Marines and I was shocked at how little help there was for him and the thousands of other homeless U.S. military veterans." He is currently working on two more novels in the Boys of Venice Beach Series, loosely based on people he met when he was living in Venice Beach, California. Author webpage: https://janstmarcus.com
"This love story breaks boundaries and is simply unforgettable. We are pleased to present this tale of our times," said Robert Fletcher, CEO of Strategic Book Publishing and Rights Agency.
DAMAGED HEARTS: BOOK 1 IN THE BOYS OF VENICE BEACH SERIES (ISBN: 978-1-950860-80-7) is now available for $21.95 and can be ordered through the publisher's website:
http://www.sbprabooks.com/JanStMarcus or at your favorite book seller.
WHOLESALERS: This book is distributed by Ingram Books and other wholesale distributors. Contact your representative with the ISBN for purchase. Wholesale purchase for retailers, universities, libraries, and other organizations is also available through the publisher; please email bookorder@sbpra.net.