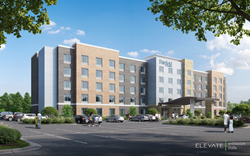 Just a few minutes away from downtown Alpharetta, and less than a mile from the Avalon, the five-story, 78,000 square foot Fairfield Inn will feature 166 guest rooms, a fitness room, bike racks, and electrical vehicle charging stations.
ALPHARETTA, Ga. (PRWEB) November 11, 2021
Florida-based construction management firm, Firmo Construction, has been hired to build a Fairfield Inn by Marriott in Alpharetta. In partnership with Savannah-based hospitality management and development group, HOS Management, the two companies celebrated the start of the construction process for the new hotel with a groundbreaking ceremony this morning.
Eric Collin, President of Firmo Construction and Krishan Gandhi, VP of Development and Acquisitions of HOS Management, offered brief remarks to the events' guests, which included President and CEO of Alpharetta Chamber, Deborah Lanham, and the project's architect, Nitin Patel of Elevate Architecture Studio.
"With the relationships and partnerships we've already established with the City of Alpharetta and Alpharetta Chamber, our team is excited to become part of the area and ready to bring our expertise in hospitality construction to this new tourism opportunity," said Eric Collin. "This hotel will commence our third project with the HOS Management team, and commemorate our first project in the Alpharetta community."
Bringing decades of experience with the Marriott brand and the hospitality industry, Firmo Construction, HOS Management, and Elevate Architecture Studio, will deliver this Marriott model on Webb Bridge Road, just a few minutes away from downtown Alpharetta and less than a mile from Avalon. The future five-story Fairfield Inn will feature 166 guest rooms, a fitness room, bike racks, and electrical vehicle charging stations. At a little over 78,000 square feet, the structure will be situated on a six-acre lot.
"With HOS's mission to create welcoming hospitality experiences for all our properties, combined with Firmo's experience with ground-up hospitality construction, I look forward to opening this hotel to future guests and visitors in the Alpharetta community," said Krishan Gandhi. "Our team is excited to continue to work with a partner that shares our family-oriented mindset, while expertly navigating the construction process to deliver our vision."
For more information about this project, please email Nicole Miskovic at nicole@firmoconstruction.com or call 470-508-1616.
Groundbreaking ceremony event photos here.
Rendering of Fairfield Inn here.
About Firmo Construction
Established in 2003, Firmo Construction was formed with a mission is to deliver client visions by elevating each project to its fullest potential through innovative solutions. The construction management firm is headquartered in Sarasota, Fla. and licensed in over 16 states, offering engineering, architecture, and construction services for commercial projects of all sizes. An early adopter of USGBC's Leadership in Energy and Environmental Design (LEED) system as well as Virtual Design and Construction (VDC), the team continues to evolve with that progressive mindset today, remaining industry leaders in design and building technology. For more information, visit: http://www.FirmoConstruction.com.
About HOS Management
HOS Management is a second-generation Savannah hospitality and development group with over 30 years of industry experience managing a diverse collection of iconic hotel brands, including Hilton, Choice, IHG and Marriott, throughout the Southeast region. Founded by brothers Anil and Kirit Patel, the company strives to build thriving, sustainable hotel properties, provide incredible guest experiences, and give back to the communities in which they do business through company and employee-driven philanthropic initiatives. HOS has successfully cultivated long-standing relationships with hotel partners, investors and most importantly, guests, through its brand's family-oriented philosophy. Visit http://www.HOSManagement.com to learn more.