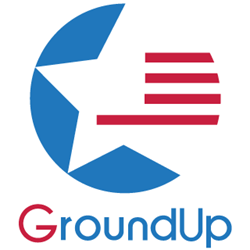 NEW YORK (PRWEB) November 02, 2018
One of the country's newest digital startups is encouraging American voters to be informed before casting important votes on November 6th in a final push to reshape the Congressional landscape in 2019. Groundup.net has critical resources to help educate voters on where Congressional candidates stand in the most important races in the country.
"It can't be understated how important it is to make informed choices on November 6th and many races feature candidates who's views on important issues couldn't be further apart," said GroundUp CEO Jeremy Gottlieb.
GroundUp's voter guide features candidate profiles on every critical Congressional race and helps voters understand the platforms of democratic candidates vying for 32 seats in the U.S. House of Representatives.
Voters can also sign up for GroundUp's innovative campaign donation platform, which rounds up every day cashless purchases to the nearest dollar and donates the spare change to specific candidates selected by the user.
The platform rounds up the purchases you make every day on coffee, gas, groceries and more to the nearest dollar, so if a coffee is purchased for $2.70, $0.30 would be rounded up to Democrats in need.
The technology was developed to give people a safe, secure and easy way to make a difference in the political process and support the issues they care about. By concentrating donations on candidates in the most contested races, the collective donating power of millions can provide a boost to a nationwide strategy to flip state governments.
About GroundUp
GroundUp's mission is to allow Americans living in all corners of the country to make an equal impact on U.S. elections, not just the wealthiest among us and lobbying groups. By rounding up change from cashless purchases, and using GroundUp to identify swing races where even small contributions can make a big difference, Americans everywhere can elect national leaders to protect the issues they care about.
One of the fastest growing political donation platforms in 2018, GroundUp was just recognized as a top new political tool by the largest conference of progressives in America, Netroots Nation as the 2018 Best Startup Technology at Netroots annual conference held in New Orleans.
To learn more or donate, visit http://www.GroundUp.net.