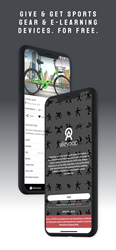 "No child should be left behind due to lack of resources."
MENLO PARK, Calif. (PRWEB) August 24, 2020
Shay Patel, a high school junior in the San Francisco Bay Area, and his team of large-hearted teens are on a mission to level the distance learning playing field. He and his team just launched an app, AlleyOop, which directly connects people who need eLearning devices and sports gear to those who wish to donate those items. Everything listed on the app and downloading the app are totally free. This is a game changer as there is no other app nor service doing this. Give Gear. Get Gear. Free. With a growing number of schools announcing distance and hybrid learning models for fall, there is still an eLearning device shortage as well as a lack of school sports. This teen, armed with his app, addresses both of those gaps. AlleyOop is available for download now on the App Store and Google Play Store.
A little about Shay Patel:
Since I was young I have been insanely passionate about sports. As an eleven-year-old at basketball practice at the Boys & Girls Club, I was surprised to see that most of the other kids there were not playing in proper basketball shoes. Some wore flip flops. That didn't sit well with me so I took matters into his own hands, translating empathy into action, launching Alley-Oop Kids. It's a nonprofit that I continue to run, 5 years later, with a singular mission: To level the playing field by giving under-served kids access to sports gear, training, and experiences. In light of COVID-19 I've also added eLearning devices to our efforts. Our new app is one of the many efforts of Alley-Oop Kids.