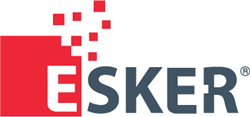 Our teams can now work from a single tool to exchange purchase orders (POs) and invoices with our suppliers — it's 100-percent automated.
MIDDLETON, Wis. (PRWEB) May 21, 2019
Esker, a worldwide leader in AI-driven process automation solutions and pioneer in cloud computing, today announced that it has been selected by Groupe Lapeyre™, a leading designer, manufacturer and distributor of home improvement building materials and subsidiary of Saint-Gobain, to automate its purchase-to-pay (P2P) cycle. This project supports Saint-Gobain's overall strategy to automate its financial processes.
Groupe Lapeyre was looking to completely rethink the organization of its accounts payable (AP) process, which was not only long and complex but also directly impacted the overall management of the company. Groupe Lapeyre receives 300,000 invoices annually in five different locations (company headquarters, shared services center, Lapeyre stores and factory, KparK™ depot) from 8,000 suppliers. Prior to Esker, its average invoice processing and validation time varied between 30 and 45 days. The risk of late payment was significant and resulted in strained supplier relationships due to delivery delays, production blockages, etc. Additionally, the inability to track credit note requests put the company at risk for significant financial losses.
"We consulted six companies to automate our P2P cycle," said Louis Parizot, Assistant Purchasing Director at Groupe Lapeyre. "We were won over by Esker's ability to integrate with our SAP® system and their easy-to-use supplier portal. Our teams can now work from a single tool to exchange purchase orders (POs) and invoices with our suppliers — it's 100-percent automated. Also key was Esker's mobile application, which allows our 500 approvers to instantly approve payments, wherever they are."
Esker will enable Groupe Lapeyre to optimize and streamline its P2P cycle thanks to real-time supplier interaction within a dedicated portal. The AP teams will be able to:

Consolidate supplier information: Implement a supplier referencing tool with a single and shared document database listing all suppliers.
Automate indirect spend purchases: As soon as purchase requests are approved, they are automatically uploaded to the supplier portal in PDF format and archived electronically.
Automate supplier invoice processing: Centralized reception at the shared services center, ERP integration and electronic archiving allows automated processing, reconciliation with POs and electronic validation directly in the solution or via the mobile application.
Benefits beyond the P2P cycle
The benefits of automating the P2P cycle will have a global impact on the management of the company, both in organizational and financial terms. The 30-person AP team will be maintained and the productivity gains will make it possible to integrate new tasks, such as the ability to manage analysis and subsequent credit note requests. Additional expected benefits include:

Improved tracking of credit note requests
Consistent processes within the P2P cycle
Reduced invoice processing to between three and 15 days
Improved control of discrepancies between POs and invoices
Improved supplier relationships
Decreased costs related to electronic archiving
Increased productivity with defined key performance indicators (e.g., payment delays, credit notes, etc.)
About Groupe Lapeyre
Groupe Lapeyre is a leading designer, manufacturer and distributor of home improvement building materials in France. The group consists of strong brands such as Lapeyre (millwork, kitchens and bathrooms), KparK (doors, windows and shutters) and Vita Confort (turnkey bathroom solutions). Groupe Lapeyre has 11 factories, 6,000 employees and 200 points of sale. Groupe Lapeyre is a subsidiary of Saint-Gobain, a global leader in home construction designs, present in 67 countries with over 180,000 employees.
About Esker
Esker is a worldwide leader in cloud-based document process automation software, helping financial and customer service departments digitally transform their order-to-cash (O2C) and purchase-to-pay (P2P) cycles. Used by more than 6,000 companies worldwide, Esker's solutions incorporate technologies like artificial intelligence (AI) to drive increased productivity, enhanced visibility, reduced fraud risk, and improved collaboration with customers, suppliers and internally. Esker operates in North America, Latin America, Europe and Asia Pacific with global headquarters in Lyon, France, and U.S. headquarters in Madison, Wisconsin. For more information on Esker and its solutions, visit http://www.esker.com. Follow Esker on Twitter @EskerInc and join the conversation on the Esker blog at blog.esker.com.