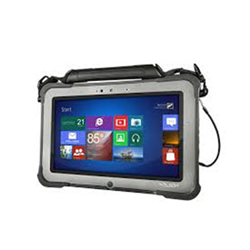 Our goal in developing the Bobcat is to provide our customers with a fully rugged, yet versatile, device that can easily transition across a variety of business applications
Chandler, Arizona (PRWEB) September 09, 2014
Group Mobile, well known for carrying the top brands in rugged laptops, rugged tablet PCs, rugged SmartPhones, and rugged handheld computers has recently extended its product offerings to include the new Xplore Bobcat. The Bobcat is a fully rugged Windows tablet boasting a comprehensive collection of standardized interfaces, an extensive array of options through its proprietary Xpansion Port, and a sleek lightweight design.
The Bobcat operates Windows 8.1 or Windows 7 Pro operating systems and continues to build upon Xplore's reputation for fully rugged durability with a MIL-STD 810G certification and IP65 rating. The Bobcat Windows tablet is an ideal choice for a variety of industries including manufacturing, warehousing and distribution, utilities, and telco.
The Bobcat tablet is powered by an Intel Quad Core Processor, 1.91GHz CPU speed, 4GB of DDR3L 1333 RAM, 128GB SSD, and 8 hours of battery life with an option to extend to a 14 hour dual-battery pack, boosting productivity for prolonged deployments. A direct bonded IPS screen, 500nits of luminance and an 800-to-1 contrast ratio makes the Bobcat rugged tablet display ideal for outdoor readability and a 10-finger multi-touch screen provides customers with ease-of-use and touch optimization.
"Our goal in developing the Bobcat is to provide our customers with a fully rugged, yet versatile, device that can easily transition across a variety of business applications," said Mark Holleran, president and chief operating officer for Xplore Technologies."
The Bobcat tablet offers a robust suite of standard inputs and outputs that make the transition across different business applications as seamless as possible. Standard features on the rugged tablet include two full-sized USB 3.0s, Micro SDXC, Micro SIM, Micro HDMI-Out, RJ-45 Ethernet, GPS engine, and a true serial port connection. With this comprehensive selection of ports, customers are not forced to compromise on port selections upon purchase.
Xplore has developed a suite of optional features designed to optimize the Bobcat for specific industries. Xplore's proprietary Xpansion Port includes integration options such as a 1D/2D barcode scanner, common access card (CAC) reader, and near-field communications (NFC) reader. Warehousing and distribution businesses can consolidate operations and reduce equipment costs with the device's barcode scanner or NFC reader capabilities, and military and government entities can benefit from increased security with the CAC reader.
"Our customers have come to expect a superior level of durability from Xplore rugged tablets, and the Bobcat is no exception to that standard," said Stephanie Kreitner, executive vice president for Group Mobile. "The Bobcat offers remarkable functionality, a lightweight design, and outstanding screen visibility."
To learn more and purchase an Xplore Bobcat rugged Windows tablet, visit http://www.groupmobile.com/product.asp/sku=7344.
About Group Mobile
Headquartered in Phoenix, AZ, Group Mobile serves customers all over North America. Customers range from Fortune 500 companies and the U.S. Military, to local police/fire/ambulance, to small and mid-size businesses, to the frequent traveler that needs something more durable than a commercial, off-the-shelf computer. Group Mobile carries all the leading rugged computing brands. In addition, Group Mobile offers vehicle docking and mounting equipment from Gamber Johnson, Ram Mounts, Jotto Desk, and Havis/Ledco. To learn more about rugged computers and how they differ from commercial, indoor computers, check out the Rugged Computer Guide or visit us online at http://www.groupmobile.com.
About Xplore Technologies
Xplore Technologies Corp. has been a leading global provider of truly rugged tablets since 1998. With nearly 90,000 deployments, Xplore tablets are among the most powerful and longest lasting in their class, withstand nearly any hazardous condition or environmental extreme, and feature competitive pricing and significant ROI. The company's products are sold on a global basis, with channel partners in the United States, Canada, Europe and Asia Pacific. Xplore Technologies' tablets are deployed across a variety of industries and sectors, such as energy, military operations, manufacturing, distribution, public services, public safety, government, and other areas with hazardous work conditions. For more information, visit http://www.xploretech.com.