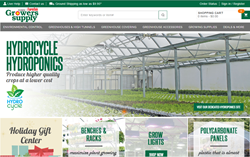 SOUTH WINDSOR, Conn. (PRWEB) December 11, 2018
Growers Supply is pleased to announce the unveiling of their new website. Customers will find a new layout and design for improved functionality and a streamlined buying process. This update supports the company's mission of providing helpful, accurate solutions for every grower with a desire to improve their operation. The new website is now live and located at the same web address, http://www.GrowersSupply.com.
The revamped website creates a user-friendly experience, enabling customers to search Growers Supply's extensive line of products. Improved organization makes it easier to browse greenhouses, environmental control systems, accessories and more. The sleek design showcases each product with clarity, helping customers find exactly what they need. The update also creates a seamless transition from desktop to mobile browsing, allowing the finest shopping experience on any platform.
The Growers Supply website is continuously updated with new products, creating an enhanced shopping experience that features the most up-to-date growing technology. Monthly specials and sales guarantee competitive pricing and the opportunity to save on a regular basis. Customers in need of additional information before making a purchase can utilize detailed buyer's guides, product brochures and a live chat customer service feature.
Growers have the opportunity to shop products from GrowSpan Greenhouse Structures on the updated Growers Supply website. GrowSpan provides durable, energy-efficient greenhouses, high tunnels and cold frames to create an optimal environment for any hobby or commercial growing operation. To view GrowSpan's website, click here. Growers Supply also sells HydroCycle Growing Systems to produce larger, healthier yields. Hydroponics systems are a sustainable option that can conserve up to 90% more water than traditional growing, with the ability to grow indoors all year long. For custom hydroponics solutions, click here.
Growers Supply has served gardens, garden centers, commercial operations and more since 1979, with a commitment to providing the highest-quality products on the market. The industry-leading expert carries over 30,000 products to choose from, ensuring a diverse selection for growers producing on any scale. National Account Managers are available to assist customers in finding the products that best suit their needs and to help tailor custom solutions.
To learn more about Growers Supply, visit http://www.GrowersSupply.com or call 1.800.476.9715.