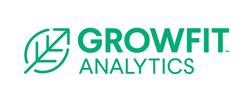 GrowFit identified issues with the HVAC systems that will help improve our ability to manage temperature, humidity and VPD in real time. We're also using the data to justify additional investment for equipment upgrades that will further automate and expand our operations. Freddy's Fuego
SALT LAKE CITY (PRWEB) August 16, 2019
GrowFit Analytics™ (http://www.growfitanalytics.com/), a data sciences and environmental technology company, today announced the commercial availability of its data analytics solutions specifically designed for cannabis growers. The GrowFit Analytics platform provides real time data of all major grow facility systems with actionable analytics to help growers produce higher quality, and higher yield crops.
GrowFit's intuitive data analytics platform provides users with real time facility data and grow system performance insights through one unified software dashboard. GrowFit collects operational data directly from a facility's growing systems, as well as data collected from environmental sensors.
GrowFit provides real time and historical data and analytics for the following grow system and environmental sensor data:

Vapor Pressure Deficit (VPD)
HVAC
Lighting
Fertigation
Grow Environmental Monitoring
Hydroponics
Humidity
Energy
"We are excited to bring the power of data sciences to cannabis professionals who represent a new and exciting era in natural bio-medicines and recreational products," said Leighton Wolffe, president of GrowFit. "As with any agricultural operation, quality control and uniform plant production are incredibly important. GrowFit Analytics is positioned to be the premier provider of information management and analytics solutions for grow operations to help ensure consistency, and quality with every crop yield."
As GrowFit collects data on cannabis facilities, growers can continually monitor and make environmental adjustments in order to produce a higher quality yield. GrowFit uniquely collects data at the grow system level, enabling growers and facility managers to take corrective actions before possible mechanical anomalies effect the grow environment. Using historical data, growers can replicate the exact environments to match previously successful crops, and products.
"The GrowFit Analytics platform was installed in our grow facility to monitor the environmental conditions and the equipment serving the clone, veg and flowering rooms," said Ben Davis, owner of Freddy's Fuego. "GrowFit identified issues with the HVAC systems that will help improve our ability to manage temperature, humidity and VPD in real time. We're also using the data to justify additional investment for equipment upgrades that will further automate and expand our operations."
For additional information about the GrowFit platform, visit https://www.growfitanalytics.com/.
About GrowFit Analytics™ -
GrowFit Analytics™ is a Salt Lake City-based cannabis data sciences and technology company designed to help grow facilities improve plant quality, maximize crop yield, and improve energy efficiency. Using advanced analytics and big-data cloud technologies, GrowFit aggregates important insights across customized KPIs under one, easy-to-use platform. With continual performance monitoring and actionable data to help maximize overall crop performance, GrowFit's solutions provide cannabis professionals with the tools they need to continually replicate successful grow patterns.