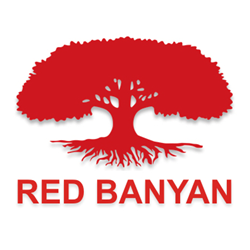 The Red Banyan team is incredibly honored to receive this prestigious recognition from GrowFL.
DEERFIELD BEACH, Fla. (PRWEB) August 16, 2018
Leading strategic communications agency Red Banyan is pleased to announce that is has been named a finalist on the GrowFL 2018 Florida Companies to Watch list. The company was recognized for its industry excellence, as well as its valuable contributions to both the Florida economy and the local community.
Red Banyan will now advance to the awards' second round where the innovative Florida-headquartered PR firm will be evaluated based on its service offerings, performance in the marketplace, as well as its philanthropic and employee empowerment initiatives.
"The Red Banyan team is incredibly honored to receive this prestigious recognition from GrowFL," said Evan Nierman, Red Banyan Founder. "We work hard for our clients day in and day out, helping them achieve their goals. This, in turn, enables Red Banyan to contribute to Florida's growing economy and give back to our community. We look forward to continuing our growth and success for years to come."
Dr. Tom O'Neal, GrowFL Executive Director added: "We applaud these first-round finalists who have shown how they stand out in their regions as innovative business leaders, going to the next level to grow their companies. They are true rock stars."
GrowFL's 2018 Companies to Watch finalists represent a unique group of scalable Florida-based enterprises that serve as an important segment of the state's economy. Selected from a deserving candidate pool of 134 fast-growing, second-stage companies, the finalists generate a combined $518 million in annual revenue and employ more than 2,700 full-time employees as of 2017.
Now in its eighth year, Florida Companies to Watch is a distinguished awards program designed to honor businesses, representing a variety of industries, that demonstrate high performance in the marketplace with innovative strategies and processes, deeming them "worth watching."
For more information visit https://www.growfl.com/flctw18/
About Red Banyan
Red Banyan is a top public relations agency with clients across the country and internationally. With offices in Florida and Washington, D.C., Red Banyan combines a substantive understanding of complex issues with the experience and skills needed to execute campaigns that deliver results. Specializing in crisis communications, corporate public relations, government relations, and legal PR, Red Banyan provides an integrated approach to communications rooted in strategy. Learn more at http://www.redbanyan.com, become a fan on the Red Banyan Facebook page and follow the firm on Twitter, Google+ and LinkedIn.
About GrowFL
GrowFL was created in 2009 as an economic development program focused on assisting second-stage growth companies prosper in the state of Florida. By providing strategies, resources and support to second-stage companies for next level growth through Strategic Research, Peer Learning and Leadership Development, GrowFL helps companies overcome obstacles to growth and leads them towards prosperity. Based on the philosophy of Economic Gardening® — to grow existing businesses in a community, region or state — GrowFL, the Florida Economic Gardening Institute, is a critical component to the state's economic development strategy and Florida's entrepreneurial ecosystem. GrowFL is a statewide economic development organization certified by the National Center for Economic Gardening through the Edward Lowe Foundation. Learn more at http://www.GrowFL.com.