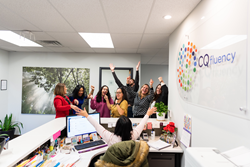 We are honored to receive recognition from Inc. 5000, and the NMSDC and want to be sure that our 'purpose' receives acknowledgement, not just our growth.
HACKENSACK, N.J. (PRWEB) September 18, 2020
High quality, culturally relevant language access isn't always readily available for the 25 million+ people in the United States who are LEP (Limited English Proficient) patients. For those that do obtain access, the standards set by the U.S. Department of Health and Human Services (HHS) are proposed to further weaken. Deeper connections require a holistic approach to language that includes adapting for tone, images, colors, symbols, religion, politics, gender, diets, humor level, sequence of information, acronyms, untranslatable puns, idioms and medical terms that don't exist in the target language.
While there are thousands of language service providers worldwide, CQ fluency's unique proprietary processes and strong commitment to diversity and inclusion (D&I) are making the company stand out and win accolades. For the seventh consecutive year, CQ fluency, whose mission is "improving lives," is recognized on the Inc. 5000 "Fastest Growing Companies" list. This announcement comes on the heels of recently being named a Corporate Plus member by the National Minority Supplier Development Council. Both recognitions are a testament to CQ fluency's comprehensive approach to diversity and inclusion – embracing a multicultural workforce, creating an inclusive workplace culture, being integrated in their communities and leveraging diverse suppliers. All these factors contribute to CQ fluency's ability to help the world's largest health and life science organizations engage the hearts and minds of their often-misunderstood diverse patients.
Elisabete Miranda, President & CEO of CQ fluency shared, "We are honored to receive recognition from Inc. 5000, and the NMSDC and want to be sure that our 'purpose' receives acknowledgement, not just our growth." Elisabete added, "As a Minority and Woman owned Business Enterprise (MWBE), diversity isn't simply a company policy – diverse is what we are, and inclusive work naturally derives from that. For over 20 years we have worked towards improving the lives of underserved populations through communication, with a goal to contribute to the fight toward inclusive health equity for all."
D&I strategies are valuable ingredients in overcoming adversity. Through the unprecedented events of 2020, CQ fluency's well-known agility and flexibility was evident through their commitment and responsiveness in the face of adversity. To continue to serve their clients in a more expansive and immediate way in the face of COVID-19 by transitioning to a full-remote team overnight, implementing a 24/7 task force for critical translation needs, waiving rush fees, maintaining a full staff with no lay-offs or furloughs and hiring additional staff.
CQ fluency focuses on providing language solutions for Fortune 500 health and life science companies with services that provide LEP patients with access to critical health information, addressing the multicultural dimensions of non-adherence, and helping drive diversity in clinical trials.
About CQ fluency:
CQ fluency is a global company that offers a full suite of culturally relevant translation services for life sciences and health in over 170 languages. We are on a mission to improve lives– with subject matter experts who leverage their Cultural Intelligence (CQ) to blend meaning and feeling to cultivate real human connections. We combine human expertise with customized technology to help organizations effectively communicate to an increasingly diverse domestic population and navigate the global marketplace. Our clients include pharmaceutical and health insurance companies, hospitals and health agencies. More about CQ fluency can be found on our website at http://www.CQfluency.com
About Inc. Media:
The world's most trusted business-media brand, Inc. offers entrepreneurs the knowledge, tools, connections, and community to build great companies. Its award-winning multiplatform content reaches more than 50 million people each month across a variety of channels including websites, newsletters, social media, podcasts, and print. Its prestigious Inc. 5000 list, produced every year since 1982, analyzes company data to recognize the fastest-growing privately held businesses in the United States. The global recognition that comes with inclusion in the 5000 gives the founders of the best businesses an opportunity to engage with an exclusive community of their peers, and the credibility that helps them drive sales and recruit talent. The associated Inc. 5000 Conference is part of a highly acclaimed portfolio of bespoke events produced by Inc. For more information, visit http://www.inc.com.
About NMSDC:
The National Minority Supplier Development Council, Inc. established in 1973, is a vital link between major corporations and minority business enterprises (MBEs). Each year, member corporations have reported billions of dollars spent with Council-certified Minority Business Enterprises. Serving the United States, the Council is one of the 23 regional affiliates of the National Minority Supplier Development Council, Inc. for more information about NMSDC visit http://www.nmsdc.org