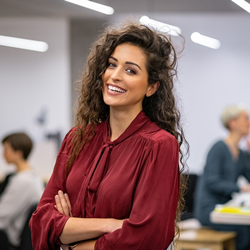 For small to midsize companies, RapidStart CRM delivers a simple, affordable solution designed for growth.
HOBOKEN, N.J. (PRWEB) May 26, 2021
A NYC area productivity technology expert extols the virtues of RapidStart CRM for growing businesses in a new article on the eMazzanti Technologies website. The informative article first explains how feature overload from major competitors' products leads to low adoption for small to midsize companies.
Then the author advocates the simplicity and basic features of RapidStart CRM. She notes that the product is easily customized and costs much less, making it a better solution for smaller businesses.
"For small to midsize companies, RapidStart CRM delivers a simple, affordable solution designed for growth," stated Jennifer Mazzanti, CEO, eMazzanti Technologies.
Below are a few excerpts from the article, "Growing Businesses Start Simply with a Path for Expansion on RapidStart CRM."
The Goldilocks Zone
"The major competitors in the CRM market offer hundreds of features. And for large enterprises, the advanced capabilities of a solution like Dynamics 365 Sales Professional and Sales Enterprise prove essential. On the other hand, for a small to midsize company, feature overload can lead to low user adoption. Consequently, businesses may end up paying stiff monthly fees for advanced features they never use."
Simplicity of RapidStart
"RapidStart CRM excels in its simplicity. Fresh out of the box, the Original RapidStart CRM allows users to track prospects, as well as manage contacts and accounts. It also provides the ability to create and track sales opportunities and service cases for those contacts and accounts. The simple navigation empowers users to dive in and get started right away."
Customizable
"Each company has unique requirements. And regardless which CRM application they implement, organizations will almost certainly need to customize the product. Starting with a feature-rich product like Dynamics 365 Sales means stripping away unnecessary features and adding custom-built capabilities."
"RapidStart CRM, on the other hand, delivers a basic framework. Then, instead of wasting time redesigning or hiding existing features, companies use Microsoft's Power Platform to custom fit the app to their requirements."
Getting Started with RapidStart CRM
Implementing the out-of-the-box features in the original RapidStart CRM requires minimal expertise and only a day. Organizations choose among several free starter apps, including the Original RapidStart CRM, Enterprise and RapidStart CRM Referral. And for companies that prefer not to bother with setup, eMazzanti Technologies offers a low-cost setup service.
Then, to meet business needs, companies can expand on the foundation app by implementing industry-specific add-ons and customizations at any point. In addition to the developer, Forceworks Global, companies can engage the services of a competent Microsoft Partner that specializes in their industry, including eMazzanti Technologies.
Have you read?
Hybrid Workforce Strategies for Success
Improve Email Deliverability and Secure Business Reputation with Essential Tools
About eMazzanti Technologies
eMazzanti's team of trained, certified IT experts rapidly deliver increased revenue growth, data security and productivity for clients ranging from law firms to high-end global retailers, providing advanced retail and payment technology, cloud and mobile solutions, multi-site implementations, 24×7 outsourced network management, remote monitoring, and support.
eMazzanti has made the Inc. 5000 list 9X, including eight consecutive years, is a 4X Microsoft Partner of the Year, the #1 ranked NYC area MSP and NJ Business of the Year! Contact: 1-866-362-9926, info@emazzanti.net or http://www.emazzanti.net Twitter: @emazzanti Facebook: Facebook.com/emazzantitechnologies.