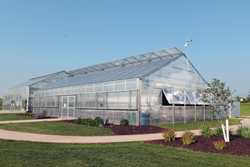 SOUTH WINDSOR, Conn. (PRWEB) December 20, 2018
GrowSpan Greenhouse Structures has officially begun their Refer a Friend Program. With a cash incentive and the opportunity to learn more about GrowSpan structures, the referral program is beneficial to both existing and new customers.
Previous customers are welcome to take part in the Refer a Friend Program by inviting friends to tour their GrowSpan greenhouse structure. This provides prospective buyers an opportunity to see the many features each greenhouse has to offer up close. Visiting a GrowSpan greenhouse structure in person also allows past customers to provide insight and knowledge of their experience, and showcase the benefits the structure offers.
After the prospective customer finalizes an order with GrowSpan for their own greenhouse, the referring friend will receive up to 1 percent of the order's value in cash back. Customers have the potential to earn a maximum payout of $2,500 if the order is placed within 12 months of referral.
GrowSpan Greenhouse Structures is the leading manufacturer of greenhouses for growing operations of any size. Commercial growers are sure to find the square footage they need to operate successfully and efficiently, while hobby growers can choose from a multitude of small structures. Each greenhouse can be outfitted with environmental control technology, such as heating, cooling and ventilation systems for optimal growing conditions all year long.
GrowSpan's high tunnels, cold frames and greenhouses provide the ideal growing environment for vegetables, flowers, hydroponic growing, education and research. Every grower will find value in utilizing a GrowSpan greenhouse to enhance their operation and produce stronger, healthier yields.
To learn more about GrowSpan, visit http://www.GrowSpan.com or call 1.800.476.9715 to speak with a dedicated Greenhouse Specialist.