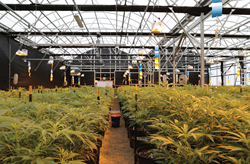 SOUTH WINDSOR, Conn. (PRWEB) December 04, 2018
GrowSpan has released an informative guide on the benefits of growing cannabis with a greenhouse. The article was recently published in an effort to inform both beginners and experienced growers that have not yet considered the possibilities with greenhouse growing.
"The Definitive Guide to Why it's Better to Grow Cannabis in a Greenhouse" explores the many aspects of growing cannabis that are often overlooked, such as lighting, climate control and potential economic stresses. It provides detailed information to cannabis growers who may have overlooked opportunities to improve their growing operation.
Readers will gain vital insight into the many ways a greenhouse provides complete control over any cannabis growing operation, while keeping energy and operating costs low, something other techniques are not capable of. This will allow growers to avoid costly mistakes that could threaten the viability of their crop, while also boosting their operation's profitability.
The conclusive guide is now available to read here on the GrowSpan website.
GrowSpan Greenhouse Structures is dedicated to providing accurate and beneficial information to growers around the world. The industry-leading greenhouse manufacturer utilizes cultivation experts and greenhouse specialists with industry knowledge and hands-on experience.
GrowSpan's energy-efficient greenhouses offer superior climate control, ventilation and durability. Growers can choose from an extensive line of greenhouses, high tunnels and cold frames, suitable for any growing operation. From hobby growers to professionals, each structure has endless customizations to create the ideal solution for any grower.
With GrowSpan, customers experience one-stop shopping with access to tools, accessories and more. Between expert consultation, in-house financing and quick installation, acquiring the perfect greenhouse structure is effortless.
Readers can access more useful information from the GrowSpan blog here. To find out more about GrowSpan, visit http://www.GrowSpan.com or call 1-800-476-9715 to speak with a greenhouse specialist.