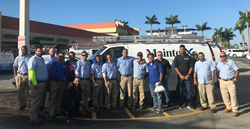 MaintenX clients know they can always count on their technicians to provide top-notch work and customer satisfaction.
TAMPA, Fla. (PRWEB) April 17, 2019
MaintenX International, a Tampa-based provider of superior facility maintenance, is continuing to expand its team across the nation. With dozens of available positions in roles from HVAC to plumbing and roofing, there are opportunities for all kinds of skilled technicians.
"We are excited that our rapid growth allows us to expand our team," said Bill Schaphorst, MaintenX's VP of Business Development. "Our continued success is in large part due to the exceptional service our technicians offer to our clients. MaintenX clients know they can always count on our technicians to provide top-notch work and customer satisfaction."
One area where MaintenX has experienced particularly strong growth is roofing. In 2018, MaintenX expanded its Roofing Division to provide turnkey options across Florida and has become an approved applicator for 11 of the nation's most reputable manufacturers including Carlisle, Duro-Last, Eagle Roof Tile and Firestone.
MaintenX team members benefit from a strong, positive corporate culture and a number of unique benefits. In addition to health insurance, paid vacations and an immediately vested 401k with 5-percent match, MaintenX team members enjoy onsite perks including a full gym, catered lunches and car wash days.
"I've loved becoming part of the MaintenX team," said Roofing Division Account Manager, Angela Bartoli. "It's great to work for a company that supports your goals and is dedicated to doing the job right every time. MaintenX's focus on customer satisfaction is unparalleled in our field."
To learn more about the services MaintenX offers or to learn about available positions, visit http://www.maintenx.com.
ABOUT MAINTENX INTERNATIONAL:
MaintenX International is a fully licensed, facilities repair company. As one of the largest national self-performing facility maintenance and repair companies in the U.S., MaintenX has created a wide network of knowledgeable and professional technicians throughout the country. With their team of well-trained technicians, MaintenX self-performs and manages facility maintenance for their clients. In the event there is not a MaintenX technician in an area, the company has established a network of preferred vendor partners throughout the country for continued superior service for their clients. For more than 40 years, MaintenX has been expertly serving multi-location retail stores, restaurant chains and Fortune 500 companies nationwide.