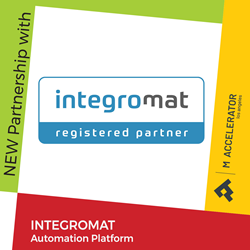 "Within the same workshop, we can easily train, design and implement effective growth hacking strategies with our startups."
LOS ANGELES (PRWEB) February 04, 2020
M Accelerator is proud to announce a new partnership with Integromat, the internet's most advanced online automation platform. With so much on the plate of young founders, Integromat is an incredibly powerful method to increase efficiency.
Integromat will provide solid value to our startups and founders as they will have access to the platform for the duration of our longer 3-month program, a value of $900.
"As a software developer I have been working on web solutions and digital transformation since 1997, using all sorts of digital marketing tools and coding languages," said Alessandro Marianantoni, Exec. Director and founder of M Accelerator. "Today, it doesn't make any sense to spend dozens of hours coding simple web-based interactions, especially for the non-technical founders. We want them first to design and develop a strategy, then to go through our validation process and only after scale their strategies. With tools like Integromat, within the same workshop, we can easily train, design and implement highly effective growth hacking strategies with our startups."
"We are excited to be partnering with M Accelerator to show how Integromat can be a part of your growth hacking strategies. Integromat was born out of our own need to easily and quickly create integrations." Tomas Wiesner Head of Partner program and Enterprise solution. "So, we know first-hand the impact that no-code tools, specifically, Integromat can have on the speed of development and growth for startups. Time and money are precious resources, and the ability to rely on no-code tools to help grow is the ultimate superpower for them."
About Integromat
Integromat will automate processes that you currently handle manually. It is not only capable of connecting apps but can also transfer and transform data. It works 24 hours a day, seven days a week and does not require your intervention. Simply set Integromat to do what you want and let it work for you. Save your time!
Integromat is the most advanced online automation platform. We've redefined work automation so everyone can get back to what matters the most.
Learn more at https://www.integromat.com/en
About M Accelerator
M Accelerator is a hybrid accelerator/incubator program in Los Angeles with a dedicated workspace, training programs and for founders, managers, and students. With an emphasis on business design and growth hacking, our coaches have more than 30 years of experience in business consulting and started working on digital marketing when Google was under Stanford's web domain!
Learn more about our process at https://maccelerator.la and ask about our new fundraising programs at info@maccelerator.la.
Read more about all the offers from our partners.