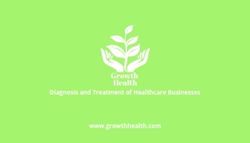 LOS ANGELES (PRWEB) December 21, 2018
Growth Health lowers its RCM fees to 5% as it disrupts specialty-specific medical billing & collection services, with the adoption of automation and business intelligence.
Growth Health Inc., An industry specific Healthcare Management and Services company, announced today that it will be offering its full suite revenue cycle management services at a flat rate of 5% to all its customers.
Growth Health is a privately held company based in New York, NY., that serves medical practices and Hospitals with specialty-specific offerings: Billing Solutions for revenue cycle management (RCM), Financial Services, Marketing, Franchise Planning, Power Buying (GPO), Inventory Management, Practice Management and Information Technologies.
This offering was made possible by Growth Health's proprietary algorithm that analyses many revenue performance indicators, ranging from coding, eligibility verification and insurance reimbursement rates to collecting patient's responsibility and aging recovery.
The implementation of cutting-edge technology is no stranger to Growth Health's approach; One of the reasons they've averaged a 20% increase in revenue for their clients, is the use of business intelligence (BI) and machine learning. Allowing real time data to influence decision making, contracts' value and growth opportunities.
Growth health's public offering (IPO) scheduled early 2020 is a clear indication of the company's aggressive approach in providing value to its customers and becoming the market leader of provider led healthcare organizations.
Upon speaking to its cofounders, that path is clear, due to the ever changing healthcare landscape, their Adapt or Die mentality might be the saving grace for providers in a private equity dominant market. Thus keeping doctors in the driver seat and providing patients with the quality care they deserve.
About Growth Health
As the National leader in the business of medicine. Growth Health offers solutions ranging from Practice Assessment to a Full suite of Management Services, Creating momentous revenue growth without the hardships of scaling.
Despite popular belief, Private equity is not the only path to accelerated Growth. Growth Health's team of highly qualified executives help practices and hospitals nationwide achieve the same goals while retaining equity in their business.
For more information, contact:
Public Relations
888-441-4769 x520
info(at)growthhealth.com
Growthhealth.com